Make an impact at one our upcoming 20th Anniversary Signature Service Projects
CONNECT AND SERVE
New York, NY – September 18, 2021
Dallas, TX – October 9, 2021
Washington, DC – November 6, 2021
New York, NY
September 18, 2021
The New York stop on our Operation Enduring Service campaign tour has a special feel to it, for obvious reasons. As we continue to honor those who were inspired into service 20 years ago by the tragic events of 9/11, our Service Platoons and volunteer force are rallying around a project not far from Ground Zero in New York City, where this journey of service began for so many.
The New York Platoon's operational focus is to work with its communities to re-imagine and reinvent spaces and places; strengthening the connections between the people and places they share to support an evolution of what the community is known for.
Please join us in service on September 18th at the 9/11 Memorial Rose Garden in Sunset Park, Brooklyn as we honor all those that serve our nation by cleaning up and rejuvenating this Memorial Rose Garden and Grove and returning it to its former glory.
Register for the Project
Dallas, TX
October 9, 2021
Join the DFW platoon as we kick off The Mission Continues' national service campaign, Operation Enduring Service, in memory of the 20th anniversary of September 11th.
We will be serving at VOA Texas Riverside Substance Abuse and Treatment Facility.
We will be painting, pressure washing, building benches, building picnic tables, and creating a walking path. Below is some background on the VOA Texas Riverside Substance Abuse and Treatment Facility.
Register for the Project
Washington, DC
November 6, 2021
The Mission Continues Washington DC Service Platoon supports DC schools through a variety of community service projects to include – but not limited to – area beautification, improvements to recreation and learning spaces, community gardens, and mentorship through positive action. The DC Service Platoon also partners with the National Parks Service and National Parks Conservation Association (NPCA) throughout the District of Columbia. Our goal is to tackle deferred maintenance and improve visibility and accessibility of the parks for veterans, military families and local residents.
Register for the Project
PREVIOUS SIGNATURE SERVICE PROJECTS
Los Angeles, CA
August 28, 2021
On this August day of service, our platoon hosted a service project meant to not only give back to South Central LA, but to invest in the youngest members of our community. Our platoon was at the Wanda A. Mikes Early Education Center which serves as a childcare/development center for the youth of Los Angeles.
There was a good mix of building, painting, and landscaping projects that will help the school provide quality educational opportunities for its students.
Learn More About the Project Here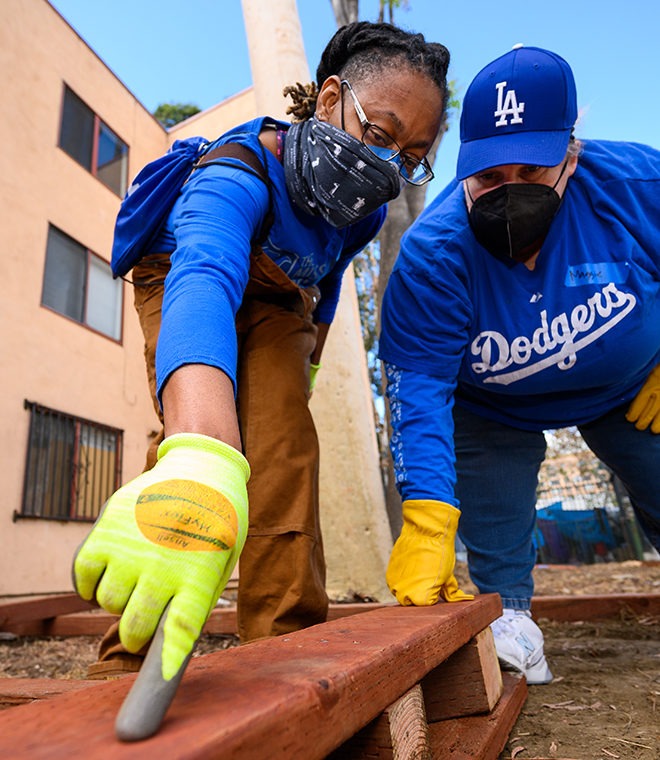 Chicago, Illinois
July 17, 2021
Dozens of veterans, volunteers, and community leaders converged on two communities in Chicago on July 17th. The work done that day at the locations of Yollocalli and the Enlace La Calabazas Community Garden will have a lasting impact felt by the community members for years to come.
Check back soon for incredible content highlighting all the great work done in service of Operation Enduring Service as veterans mark the 20th anniversary of 9/11 and the 20 years of service that stemmed from that day.