Make an impact at one our 20th Anniversary Signature Service Projects
CONNECT AND SERVE
Chicago, IL – July 17, 2021
Los Angeles, CA – August 28, 2021
New York, NY – September 18, 2021
Dallas, TX – October 9, 2021
Washington, DC – November 2021 (exact date TBD)
Chicago, Illinois
July 17, 2021
Join the Chicago platoon as we kick off The Mission Continues' national service campaign, Operation Enduring Service, in memory of the 20th anniversary of September 11th.
We will be serving at two sites, Enlace La Calabazas Community Garden and Yollocalli. Both sites are located in Little Village.
Register for the Project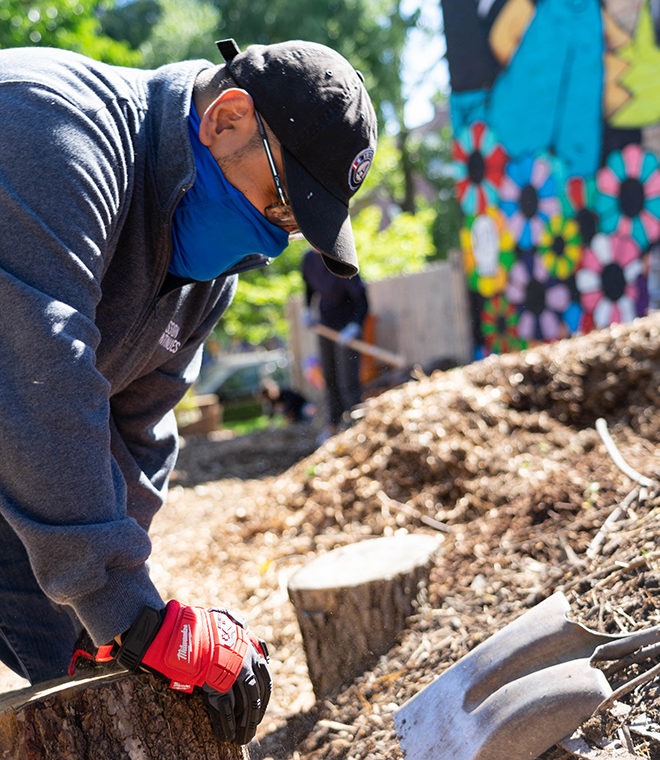 Los Angeles, CA
August 28, 2021
The Los Angeles Platoon works in the heart of the LA Promise Zone taking action to improve neighborhoods in Los Angeles by improving school grounds and fostering educational opportunities for the youth in underserved neighborhoods. They have partnered with local schools and after school programs to create safe and beautiful campuses in the Promise Zone, supported the LA Beautification Team's large tree-planting initiative and worked with City Parks and Recreation to create community gardens and a safe outdoor space for Las Palmas Senior Center.
Register for the Project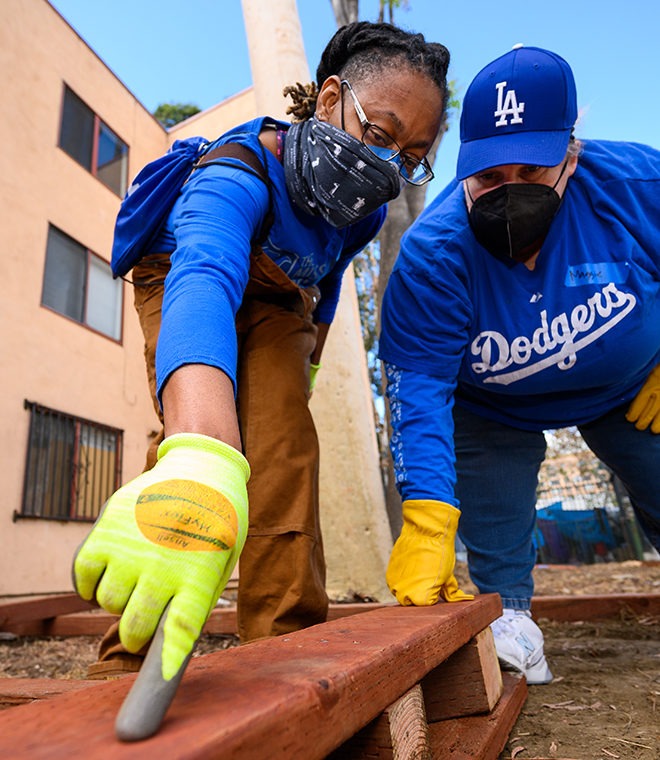 New York, NY
September 18, 2021
The New York Platoons are working with their communities to re-imagine and reinvent spaces and places; strengthening the connections between the people and places they share to support an evolution of what the community is known for.
Register for the Project
Dallas, TX
October 9, 2021
In collaboration with the local schools in the area, The DFW Service Platoon, which includes Dallas, Fort Worth, and Arlington, create positive activities outside of school for students to engage in service alongside veterans. These projects include beautifying their schools and neighborhoods as well as creating sustainable community gardens to address food desert-related issues.
Register for the Project
Washington, DC
November 2021 (Date TBD)
The Mission Continues Washington DC Service Platoon supports DC schools through a variety of community service projects to include – but not limited to – area beautification, improvements to recreation and learning spaces, community gardens, and mentorship through positive action. The DC Service Platoon also partners with the National Parks Service and National Parks Conservation Association (NPCA) throughout the District of Columbia. Our goal is to tackle deferred maintenance and improve visibility and accessibility of the parks for veterans, military families and local residents.
Learn More About the Project