The New York Platoons are working with their communities to re-imagine and reinvent spaces and places; strengthening the connections between the people and places they share to support an evolution of what the community is known for.

Located in New York City, Harlem is a historic neighborhood, rich in culture and character. Harlem faces many of the challenges of an under-resourced community such as food insecurity. Focused on sustainable living and urban agriculture, The Harlem Platoon is addressing the communities needs with key partners to strength connections and build on the communities existing vision of itself.

The Bronx Service Platoon is working to build a sense of pride and ownership for the members of the Bronx community through neighborhood beautification and the arts. The Platoon works to create creative green spaces, develop art exhibits with local artists, and build art installations in Community District 5.

The Brownsville, Brooklyn neighborhood has had its struggles with gang violence and crime in the past but residents and community members are working to change the perception of Brownsville. The Brooklyn Platoon is collaborating with Partnerships for Park and Community Solutions – Brownsville Initiative to help change that perception and strengthen the community connection.

New York City is home to more than 2,300 parks and outdoor spaces; however, many under-resourced communities are experiencing inequities in the accessibility of these outdoor spaces. The Queens Platoon is addressing the communities needs with key partners to revitalize these outdoors spaces and provided equitable access to all communities.
Not ready to join?
Get Platoon Updates
Impact Stories from the Field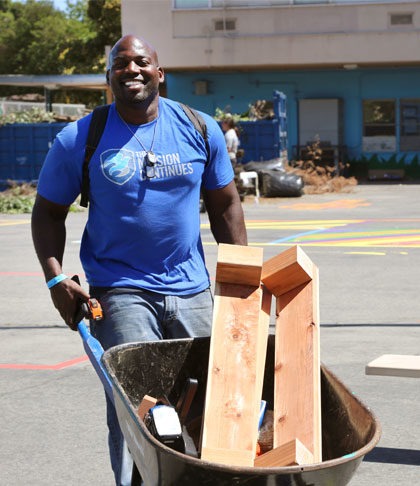 Support our Work in Communities Across the Country
Your donation goes a long way into ensuring that veterans are able to connect with others and make an impact in their home communities.