The Mass Deployment experience is more than just a week of high-impact volunteerism in one city. It's an investment in yourself as a community leader.
WHAT ARE MASS DEPLOYMENTS?
Mass Deployments mobilize veterans from across the country alongside local partners and volunteers in a single city for a week of learning, teamwork, and community impact. We select cities that will benefit from an influx of resources that The Mission Continues and our partners can provide, and that have the potential for sustainable growth—so that the impact is built to last. Similarly, for our veteran force of volunteers – the training, networking, and skill-building achieved during mass deployment serves as a foundation for continued leadership at home.
Learn more about what a Mass Deployment is like:
A Mass Deployment is a week of incredible impact—and hard work. You'll sweat, you'll hurt, and you'll be glad you brought fresh socks, but you'll make friends for life and see tangible change in a community in as little as five days.
WONDERING WHAT YOU'RE IN FOR? HERE'S A SAMPLE OF WHAT YOUR SCHEDULE MIGHT LOOK LIKE AT MASS DEPLOYMENT
6:00 A.M.: Rise and shine—time to greet your day!
7:00 A.M.: Fuel up with a hearty breakfast and connect with your fellow crew members before boarding your bus to the day's project site.
8:00 A.M.: Service project time! The day will be long, it may be hot outside, but the impact you make will be memorable and the bonds you create will last a lifetime.
8:00AM-5:00PM: You'll be asked to lead a team of veterans and volunteers through a series of projects that will add beauty, capacity and love for our community partners.
5:00 P.M.: Most service projects will wrap up around 5:00 p.m., but a small group of volunteers may be asked to stay behind and help tie up any loose ends.
6:30 P.M.: After the project, it's time for chow and sharing in the experiences of the day with your crew.
9:30 P.M.: Lights out—literally! Mass Deployments are intense, so you can expect to look forward to meeting your bed again. Rest up, recharge, and get ready for the next day!
Here's what to expect leading up to, during and after a Mass Deployment with The Mission Continues.
APPLICATION & SELECTION
Completing the application to be a Crew Member or Ambassador is the first step to Mass Deployment

The application process is competitive, but once you've successfully completed the application and interview process and been selected to the program, you'll be asked to confirm your spot at Mass Deployment

Complete your travel survey to make it really official. Airfare, lodging and most meals associated with Mass Deployment are covered by The Mission Continues
PREPARING FOR MASS DEPLOYMENT
Your learning starts before you arrive at Mass Deployment. You'll have the opportunity to engage in cultural competency and skill building trainings, learn about the community you'll be serving in and the people you'll be serving with, and more

Engage your network and help support the deployment through fundraising opportunities and social media awareness

Pack your bag! We will provide a detailed packing list to ensure you're equipped during the week of service
MASS DEPLOYMENT IN ACTION
Make an impact through five consecutive days of service. These are intense, action-packed days that will test your stamina, and provide a lifetime of memories

Grow as a leader through onsite workshops, skill-building opportunities, intention-setting and post-project reflections

Connect with others through group meals, dormitory living and team building exercises
POST MASS DEPLOYMENT
Return home ready to continue your service, equipped with new skills and tools that enhance your passion and ability to lead change

Engage in virtual learning opportunities to further develop newly gained skill sets

Stay connected with your Mass Deployment team through a dedicated social media channel and TMC alumni network
HOW DO I APPLY?
Veterans within our cities are welcome to apply as crew (first-time participants) or ambassadors (returning participants). Stay tuned to when our application is live!
HOW WILL I GET THERE AND WHERE WILL I STAY?
The Mission Continues will provide and cover costs for travel and accommodations for the veterans selected to participate.
ARE MEALS PROVIDED?
The Mission Continues will provide breakfast, lunch and dinner (on designated evenings) for veterans selected to participate.
IF I ALREADY LIVE IN THE CITY WHAT COSTS OF MINE ARE COVERED?
The Mission Continues will provide meals (breakfast, lunch and dinner on designated evenings), admission to TMC hosted events and lodging for Crew and Ambassadors who reside within the city or commuting distance of the city. Note that this is only extended to selected participants, and not spouses, friends or family.
Local area volunteers who have not been selected as participants will be provided meals during project hours. Expenses related to travel will not be covered for any local area volunteers.
DO I HAVE TO SERVE FOR THE WHOLE WEEK?
Crew and ambassadors are required to stay in Mass Deployment accommodations and attend all scheduled events (including evening events) throughout the week. We also encourage full participation from local veterans and civilians who have not been selected as participants. However, they are not required to attend all of the project days.
I CAN'T MAKE IT TO MASS DEPLOYMENT BUT I WANT TO KNOW HOW I CAN SERVE IN MY COMMUNITY
The Mission Continues has programs in place for you to report for duty in your community! To learn more about how you can get involved, click here.
WHY DO YOU ONLY ACCEPT VETERANS FROM SPECIFIED CITIES?
Our model, and the promise we make to our veteran participants, is that each program provides an opportunity for personal growth, connectedness, and community impact. When one of those components is absent – the model fails. Our program evaluation shows that our veteran volunteers only benefit when there's an active and consistent opportunity to stay engaged after a program like Mass Deployment ends. We can't put our volunteers in a position to succeed in the short-term only to regress in the long-term. Therefore, a requirement for all of our programs is that you reside in a metro area in which we run service platoons. These operations are long-term missions tackling specific challenges in the community that provide ongoing volunteer opportunities.
Already completed Mass Deployment? There's still more ways to serve:
Past Mass Deployments
We've completed four Mass Deployments so far—in Detroit, Atlanta, Los Angeles and Baltimore.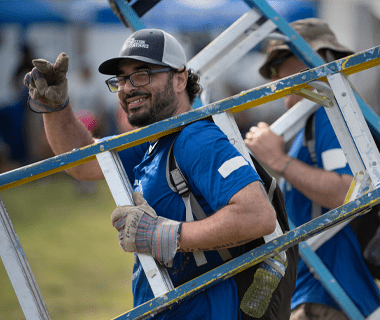 June 20-27, 2019
Baltimore, MD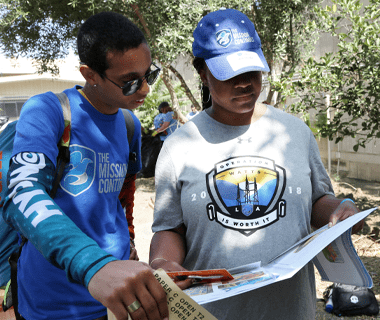 June 21-28, 2018
Los Angeles, CA
June 8-15, 2017
Atlanta, GA
We've had a profound impact over the last four years—read about it here:
Watch the impact of our work in Baltimore:
Support the next Mass Deployment
These incredible weeks aren't possible without the generous support of foundations, companies—and individuals. Consider a donation today.