Event Overview
Come join us at picturesque Governors Island for memorial BBQ on 9/13 overlooking the Statue of Liberty and the Freedom Tower to remember 9/11. We will remember that fateful day and celebrate the values that untied us to meet the challenges that day brought us with our friends. In order to get in the island you will need to take the ferry from either Manhattan or Brooklyn. Tickets must be acquired online. The ferry is free for former and active service members or if you get on the ferry before noon. It's only 3 dollars otherwise. Link to the Governors Island https://govisland.com/visit-the-island/ferryf
What To Wear
Bring your Mask and comfortable cloths.
What to Bring
Bring your Mask and Camera for a picturesque BBQ!
Parking Information
Ferries to the Island are located at https://govisland.com/visit-the-island/ferry Lower Manhattan: The Battery Maritime Building, located at 10 South Street (DAILY) Brooklyn: Red Hook/Atlantic Basin, located at the intersection of Pioneer Street and Conover Street (SATURDAY & SUNDAY ONLY).
Inclement Weather
The event will be rescheduled in the event of inclement weather.
Event Contact: Daniel Perez
dperez@missioncontinues.org
+17163973979
Impact Stories from the Field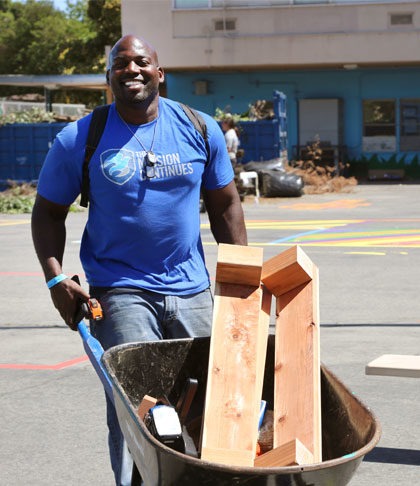 Support our Work in Communities Across the Country
Your donation goes a long way into ensuring that veterans are able to connect with others and make an impact in their home communities.