Event Overview
My Brother's Keeper Newark leads initiatives to ensure boys and young men of color around the President Obama's My Brother's Keeper Milestone: 1. Enter school ready to learn 2. Reading at Grade Level by 3rd grade 3. Graduate from high school ready for college and career 4. Complete post-secondary education and training 5. Successfully enter the workforce 6. Reduce violence and provide a second chance On February 27th, the Opportunity Summit hosted in partnership with Mayor Baraka, Prudential Financial and MBK, and the Obama Foundation will provide young men ages 16-29 with the chance to interview with employers for on-the-spot hiring, access community resources and social services, and participate in career preparation and leadership development training. Our help is needed to ensure that this event goes well. Volunteer Shifts are all day or a half-day shift (7:00 AM -11:30 AM or 11:30 AM – 4:00 PM). Food (breakfast, lunch, and snacks) and breaks will be provided. If you're interested in assisting, please sign up here here
What To Wear
Business casual and a t-shirt will be provided. Wear comfortable shoes, as you'll be on your feet much of the day!
Event Contact: Vu Nguyen
vnguyen@missioncontinues.org
(917) 414-2530
Impact Stories from the Field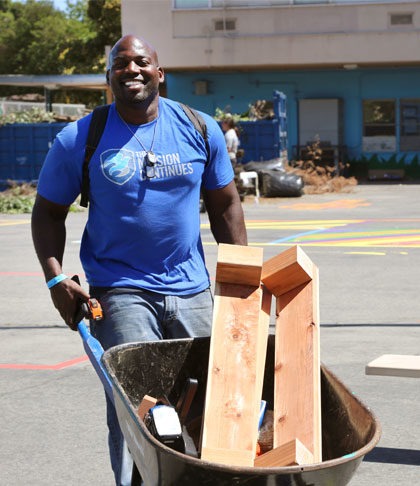 Support our Work in Communities Across the Country
Your donation goes a long way into ensuring that veterans are able to connect with others and make an impact in their home communities.