STORIES OF ENDURING SERVICE
STORIES OF SERVICE: 9/11
Click below to browse the hundreds of personal stories related to the 20th anniversary of the 9/11 attacks.
Join Us
We're gathering in a few ways this year in cities across the country—come out and serve, or attend one of our virtual or in-person thought leadership conversations.
Service Projects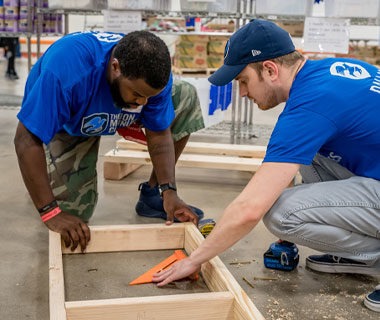 Volunteer
Make an impact at one of our 20th Anniversary Signature Service Projects at five cities across the country from July through November—or find a project near you!
Virtual Conversation Series
Register

Join one of our national conversations, in partnership with NationSwell, to explore and highlight veterans' leadership role in continued service. These events will take place from July-November. Stay tuned for more details!
FIND EVENTS NEAR
Type in a ZIP Code, or City and State
September 11th set my life on a course of service around the world. From deployments to Iraq and Afghanistan to the street of NYC, the events of 9/11 showed me an American spirit of unity and tenacity to come together to solve our collective problems. That spirit inspires me to continue to serve. I am excited to continue contributing that spirit of camaraderie and unity to my community.
Daniel Perez, Marine Veteran
Support our work in communities across the country
Join us in recognizing men and women who put service above self through Beyond 9/11: Operating Enduring Service. Your support is critical as our veterans honor the 20 years of service and sacrifice that September 11, 2001 inspired, through projects in more than 40 cities across the United States.
Thank You to Our Partners