Share Your Story
Contribute your personal story and remembrance of 9/11 to our digital library. Come back soon and see our story wall so you can read other stories from those who have submitted.
Join Us
We're gathering in a few ways this year in cities across the country—come out and serve, or attend one of our virtual or in-person thought leadership conversations.
Connect and Serve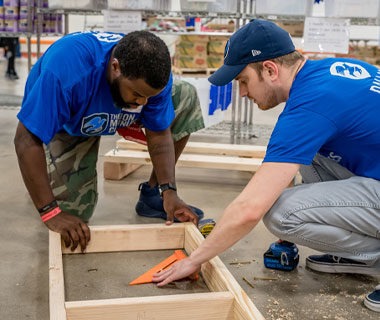 Learn More
Make an impact at one of our 20th Anniversary Signature Service Projects at five cities across the country from July through November—or find a project near you!
Celebrate and Inspire

Join one of our national conversations, in partnership with NationSwell, to explore and highlight veterans' leadership role in continued service. These events will take place from July-November. Stay tuned for more details!
September 11th set my life on a course of service around the world. From deployments to Iraq and Afghanistan to the street of NYC, the events of 9/11 showed me an American spirit of unity and tenacity to come together to solve our collective problems. That spirit inspires me to continue to serve. I am excited to continue contributing that spirit of camaraderie and unity to my community.
Daniel Perez, Marine Veteran
Thank You to Our Partners