"Stories of Enduring Service" is a collection of curated stories of veterans and advocates from across the nation who were inspired to serve by the terrorist attacks of September 11, 2001. We recognize these veterans for their sacrifice and their enduring service. Their service is not over, as there is still work to be done to ensure that our communities are safer, stronger, and thriving.
JOEY MAC DIZON: REMINISCE AND PAY HOMAGE
I started my first year of high school in September of 2001. The morning of September 11th, I remember my teacher turned on the TV and we started watching the news. But we didn't understand what we were seeing— we thought it was a movie…
Read Full Story Here
JAMES FITZGERALD: GIVING DUE SERVICE AND RECOGNITION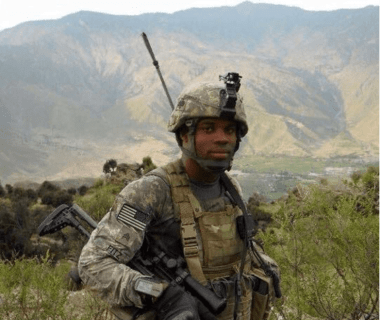 I never saw myself in the military, but I do think that 9/11 was one of those events that sparked that activation within a lot of people, including myself. It's that contemplation of what I can do at this moment? What can I do?
Read Full Story Here
ELANA DUFFY: RE-CENTERING MY SENSE OF PURPOSE
I was walking out of one of my masters' classes, which would have ended shortly before 9 o'clock in the morning, so it was right around the time the first plane hit. Some other grad students were walking by, and one mentions…
Read Full Story Here
EVERSON LOFTON: MOVING MY LIFE FORWARD
I was a junior in high school when 9/11 happened. I was in the ROTC program and excited to join the military. I was walking between my first and second classes of the day when one of my friends — a silly guy — came up to me and said, "Hey, we're at war."
Read Full Story Here
KELLY & DERRICK AUGUSTE: SERVICE MADE US A FAMILY
The morning of 9/11 I got a call from Derek's cousin's girlfriend—also my best friend—screaming and crying, because she couldn't get in touch with her boyfriend who worked in Manhattan. We didn't hear from him until hours later…
Read Full Story Here
MARJORIE EASTMAN: FINDING NEW FRONTLINES
In September of 2001 I had recently graduated from college and was thinking about who I wanted to be and how I could make a difference. I was getting ready for work in the morning when my mom called. "Marjorie, turn on the TV. We are being attacked."
Read Full Story Here
YARITZA PEREZ: LEARNING HOW TO REPURPOSE MY SERVICE
When 9/11 happened in 2001, I was away from home for the first time, stationed at Camp Pendleton, had my first newborn baby—just weeks old—in my arms, and was not yet 20 years old myself.
Read Full Story Here
ROMAN BACA: FORGING BONDS, BREAKING BARRIERS
I felt like I wasn't doing anything for the world. But I knew I wanted to help people. I wanted to be part of something bigger than myself. So in my mid-twenties, I decided to enlist in the Marine Corps as a reservist.
Read Full Story Here
RAUL JUAREZ: IN SERVICE OF A HIGHER PURPOSE
I enlisted in the Air Force in 2000 and became an intelligence analyst. In 2001, I was stationed in Kansas. The morning of 9/11 I was watching TV.
JOSUE GUERRERO: MOVING FORWARD TOGETHER
As a child, Josue Guerrero fled his home in Mexico to seek refuge in the United States. From that day forward, growing up as an undocumented immigrant in Los Angeles, his life was a daily struggle against poverty, bullying, and assimilating…
Read Full Story Here
VU NGUYEN: A STRONGER SENSE OF COMMUNITY
On the day 9/11 happened, I was waiting for my probation officer assignment when my parents and I saw what was happening on the news. We were in shock; it was kind of hard to believe what had happened.
Read Full Story Here
ROGELIO VILLA: PURPOSE IN OUR HEARTS AND HANDS
When 9/11 happened, I was on my break. I was facilitating ESL classes in a Catholic church we were using as a space for adult learners, mostly mothers, who were trying to learn English as a second language.
Read Full Story Here
DAVID DUBOIS: BLESSED TO BE ABLE TO STILL SERVE
She said, 'Hey, did you see what's on the news?' as they were repeating the images of the first plane hitting. Right at that point, the news showed the second plane hit. I said to my wife, 'That's not an accident. That's an attack.'
Read Full Story Here
DANIEL PEREZ: WHO WE ARE AND WHY WE DO WHAT WE DO
Native New Yorker Daniel Perez was nearing his first anniversary of enlisting in the US Marine Corps on the day of the September 11th terrorist attacks. What would have been a relatively normal day to mark an uneventful year…
Read Full Story Here
ANGEL CARTER: SERVICE GIVES ME PURPOSE
Angel Carter refused to allow PTSD, depression, and a frayed relationship with her family to define her life. As someone who understood personal tragedy, the terrorist attacks of September 11 offered her the opportunity to give back…
Read Full Story Here
CHRIS ATKINSON: VETERANS GOT MY BACK, AND I WILL ALWAYS HAVE THEIRS
I joined the Army in 1985 after being disenchanted with college. I really felt I wasn't getting anything out of it. I wanted to do something different than anybody else in my family. One of my friends said that he was going to join the Army…
Read Full Story Here
JEANIEL IMAGE: MAKING CONNECTIONS AND BEING TOGETHER
I joined the Navy to go to college and then when 9/11 happened. I woke up and my family were watching the news. I thought they were watching a movie because nobody was talking; they were just taking in all the information.
Read Full Story Here
CHRIS MARVIN: SHIFTING THE NARRATIVE FROM VICTIM TO LEADER
After high school, Chris Marvin's plan was to attend Notre Dame on an ROTC scholarship, serve out his commitment to the Army, and move on with his life. It was 1997, and he could not have imagined how his plans would be altered…
Read Full Story Here
JEREMY BUTLER: REMEMBERING THE LESSONS OF HISTORY
I joined the Navy in 1999 so I was actually on my first deployment as a surface warfare officer on 9/11. I was on the USS David, a destroyer out of Everett, Washington deployed off the coast of South America doing a counter-narcotics deployment.
Read Full Story Here
LAURA L'ESPERANCE: SURVIVING SHAPED MY LIFE
What a gorgeous blue sky, I thought as I made my way past the coffee carts between the World Trade Center Towers en route to my new job, which was on the 11th floor of World Financial 2—a set of office buildings that encircled the Twin Towers.
Read Full Story Here