Service and Valor: Honoring Hispanic Heritage Month
The United States Military has a strong tradition of service by members of the Hispanic community, from the Revolutionary War in through present day. Hispanic soldiers have contributed in many ways to the excellence of our military through their commitment, camaraderie, loyalty, dedication, hard work, bravery, and honor. During this month of Hispanic Heritage recognition, take a look back at the important legacy of Hispanic veterans who have served with The Mission Continues and have made made a lasting impact in their communities through their service.
Elizabeth Martinez-Gonzalez – Defining Volunteerism
Elizabeth Martinez' exemplary service to her community and veteran advocacy efforts as a Platoon Leader of the Puerto Rico Platoon defines volunteerism. Elizabeth served 15 years in the Army National Guard in Puerto Rico with one deployment for operations in Camp Delta, Guantanamo Bay.
——–
Carolina Hernandez – Woman fashion designer, veteran, and immigrant turns challenges into opportunities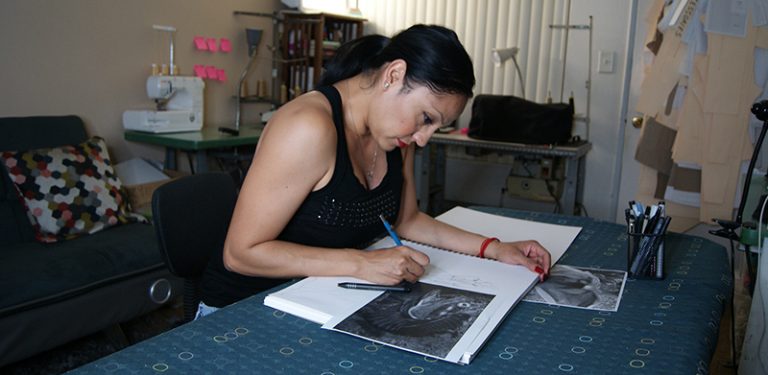 Inspired by her childhood in Mexico, Carolina was destined to become a fashion designer with a purpose. Carolina said, "I used to observe my mother making clothes for my siblings and myself. Seeing her transform fabrics into garments intrigued me to the point that it motivated me to come to the United States."
At the age of 18, Carolina left everything she knew in the hopes of attending design school in the United States. "The simple pleasures that most natives took for granted like simply understanding a movie in English was a daunting task," she describes.
——-
Raul Juarez – In Service of a Higher Purpose
I grew up in Newark, New Jersey. As a young man, I had a lot of behavioral and anger issues and made a lot of negative choices. I hit a point where I realized I wanted to make a drastic change in my life so I didn't end up dead or in jail. I wanted to serve, to learn, to be challenged. It was this motivation that inspired me to join the military, and it was this decision that changed my life in every way possible.
–——
About The Mission Continues
The Mission Continues is a national veterans organization dedicated to empowering veterans as community-based leaders. We invest in veterans and under-resourced communities, developing new skill sets and equipping a growing veteran volunteer movement with the tools to drive positive change. We deploy veteran volunteers in more than 40 cities nationwide alongside nonprofit partners and community leaders to improve educational resources, address food insecurity, increase access to parks and green spaces, foster neighborhood identity, and more. Through this unique model, veterans are provided opportunities for personal connection and professional growth while generating visible community impact. This work is made possible through the generous contributions of our mission partners.
To learn more, visit http://www.missioncontinues.org or follow us on Twitter at @missioncontinue.