National Volunteer Week 2022: Service At Our Core
In honor of National Volunteer Week and Month, we are sharing Platoon Leader stories of service and volunteerism. Learn more about the Department of Veterans Affairs #VetServe2022 campaign. Serve as a member of a Service Platoon in one of 40 cities nationwide and volunteer in projects that transform communities.  
___ 
As a part of National Volunteer Week, April 17th-23rd, we're honored to be partnered up with the Department of Veterans Affairs in service to the #VetServe2022 Campaign. This partnership affords us the opportunity to expand our impact and make a real difference where we're needed most. Join us this month – and beyond, as we're serving communities all year – to celebrate these veteran volunteers and the difference they make through service. Let's celebrate your success stories on social media and tag #VetServe2022. Help us shine a light on the issues that matter to you and your community, visit the VetServe 2022 website.  
Volunteerism has an evidence-based benefit to the mental health of the volunteer. Individuals who choose to volunteer and serve in their community develop skills, forge personal and professional connections, and experience the joy and purpose of serving a greater cause.  
Defining Volunteerism
Elizabeth Martinez' exemplary service to her community and veteran advocacy efforts as a Platoon Leader of the Puerto Rico Platoon defines volunteerism. Elizabeth served 15 years in the Army National Guard in Puerto Rico with one deployment for operations in Camp Delta, Guantanamo Bay.
"When I retired in 2014, I didn't have a place to go, I was lost for many years. The Mission Continues has actually saved my life because I was in a very dark place," said Elizabeth. During National Volunteer Week and to honor Earth Day, Elizabeth will lead the Platoon in revitalizing the El Verde Field Station, a tropical research center in Rio Grande, the Heart and Soul of the El Yunque Rainforest on the island. Puerto Rico is the only location in the United States besides Hawaii where tropical rainforest ecosystems are available for science inquiry.   
The Platoon has partnered with Post Traumatic Art Foundation, University of PR, VA Caribbean Health System, American Legion, Team Rubicon and the Wounded Warrior Project to Maintain trails that are used for science inquiry and investigation Worldwide. Veterans and volunteers will be clearing debris along trails that have been abandoned since hurricanes Irma and Maria. It is this type of work and service to her community that has earned her recognition during Dia de la Mujer Veterana, a day to honor women veterans by Governor of Puerto Rico Pedro R. Pierluisi.
"I get other veterans involved and try to do something that will help them reintegrate to their communities. It has a holistic benefit to their health and mine because families unite during our projects and spend quality time with each other; they learn from us and we learn from them."  
The Mission Continues tracks the risk (and protective) factors of our program participants and our national veteran volunteer network. This information helps us connect veterans with others more meaningfully and increase their sense of purpose through our programs. Our programs and activities are built around our Empowered Veteran Index framework, which ensures veterans have opportunities to connect with others, experience personal growth, and make a community impact. We continually track our progress in these areas to build upon what we do very well, and to address areas of growth. Listening to our veterans' stories deepens our commitment to helping more veterans connect with others and pursue service that brings them purpose in their lives post-military life.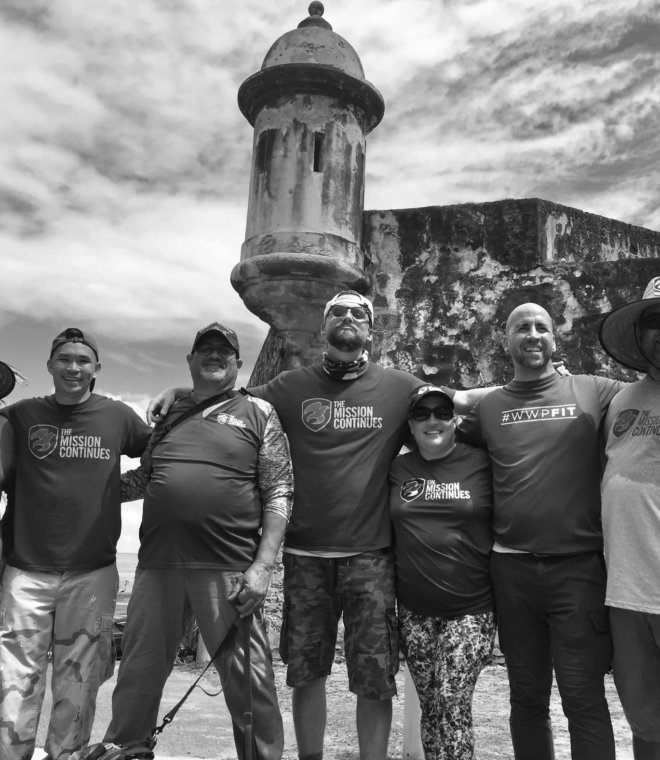 Our approach is making a difference:   
Earlier this year, in our annual survey, our veteran network shared insights regarding challenges they experience. Nearly all who engaged with us at least once in the past two years feel more connected to other veterans:  
80% believe in their ability to make a difference in their community.   
79% of our current Women Veterans Leadership Program participants chose The Mission Continues to develop deeper connections with other women.   
100% of our most recent Service Leadership Corps graduates indicate a greater sense of purpose, and feel they are a part of something larger than themselves with The Mission Continues.   
91% of our platoon leadership team members in our Service Platoon Program feel a greater sense of purpose because of their service with The Mission Continues.   
Moving Forward
While we are making a positive impact on the lives of veterans across the country, our work is not done. We will continue to use evidence-based methods and processes to connect more veterans to other veterans and non-veterans. Our goal as an organization is to be a part of the overall system of care for our country's veterans. Alongside our partners, we will help improve veteran mental health outcomes and their ability to live up to their tremendous potential as leaders. Through volunteerism and community service, we specialize in creating opportunities for veterans to increase connectedness and sense of purpose.   
___  
In honor of National Volunteer Week, we are sharing Platoon Leader stories of service and volunteerism. Join the conversation on Twitter, Facebook, LinkedIn, and serve in a Service Project near you!   
Thank you to our mission partners!