Event Overview
El Verde Field Station is a center in tropical research and education from the Department of Environmental Sciences of the University of Puerto Rico at Rio Piedra. Our Island is the only location besides Hawaii where tropical rainforest ecosystems are available for science inquiry. We will be partnering with Post Traumatic Art Foundation, University of PR, VA Caribbean Health System, American Legion, Team Rubicon and the Wounded Warrior Project to Maintain trails that are used for science inquiry and investigation Worldwide. We will be Cleaning debris at these trails that have been abandoned prior to Hurricane Irma & Maria. As well power wash and fix or throw away debris at the building at Verde Field Station.
What To Wear
TMC blues;Clothes that can get dirty;Closed-Toe Shoes
What to Bring
Blue TMC Shirt, comfortable long pants and closed shoes.
Parking
Street Parking near Venue
Inclement Weather
Might Rain since we will be at rainforest
Who's Invited
Groups;Kids (under 13);Teens;Adults (21+);Seniors (55+);Adults (18+)
Event Contact: Elizabeth Martinez Gonzalez
emartinez@missioncontinues.org
787-549-1255
Impact Stories from the Field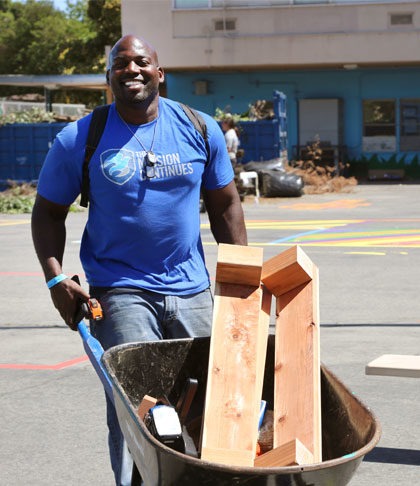 Support our Work in Communities Across the Country
Your donation goes a long way into ensuring that veterans are able to connect with others and make an impact in their home communities.