Our St. Louis Service platoons have two Operations that support schools and community organizations in the St. Louis Promise Zone. We believe a child's zip code should not determine their destiny. The St. Louis Promise Zone encompasses portions of the City of St. Louis and St. Louis County, including portions of St. Louis City, Riverview Gardens, Jennings, Ferguson/Florissant (Ferg/Flor), Normandy, and Hazelwood School Districts. Our volunteers have been invited to serve alongside our community partners and build capacity in classrooms, on playgrounds, and in community spaces used by youth and families outside of the school day. We invite you to join us on our mission and take part in a project with Operation Promise Schools or Operation Promise Neighborhoods.
Operations
Operations
Each service platoon's operation is ongoing, and unique to the platoon and that community's specific challenges. Platoons collaborate with local nonprofits, civic organizations and businesses to ensure community support and engagement.
Interested in helping to lead the Platoon?
Become a Platoon Leader
Operation Promise Schools
Operation Partner: Normandy Schools Collaborative
Not ready to join?
Get Platoon Updates
Platoon Partners
Platoon Partners
Our platoons thrive based on contributions from corporations, foundations, and more. Want to help fund the service platoon program?
Impact Stories from the Field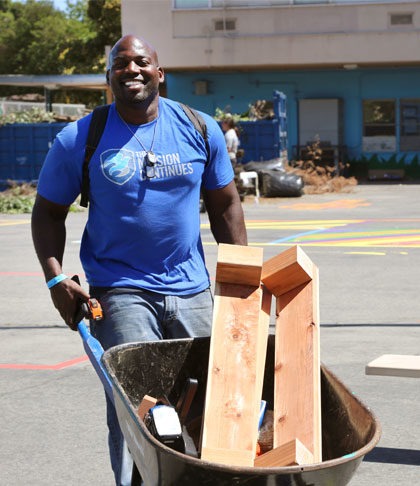 Support our Work in Communities Across the Country
Your donation goes a long way into ensuring that veterans are able to connect with others and make an impact in their home communities.