Event Overview
In honor of Dr. Martin Luther King, Jr.'s legacy of service, the Puerto Rico Platoons will be supporting the National Parks Service in building a ADA boardwalk to La Garita del Diablo. This boardwalk will support locals and tourist by educating them on the history of Fort San Cristobal and the legend of La Garita del Diablo.

The Puerto Rico Platoons will support by completing a multiply phase project to include the removed of the overgrown weeds and grass, expanding the walk way to meet ADA standards; laying of sand and gravel; and finally the building of a boardwalk to support visitors in accessing this incredible site.
We will also start some painting of the La Perla Community at the Community Center to give new bright colors and start the process of integration into the Community to help any way we can. Please join us in supporting this historical site and honoring the legacy of Dr. Martin Luther King, Jr. Meeting Location will be the Carmelo Anthony Court at La Perla.
"Everybody can be great, because everybody can serve. You don't have to have a college degree to serve… You only need a heart full of grace, a soul generated by love." – Dr. Martin Luther King, Jr.
What To Wear
Blue TMC Shirt, Long pants, closed shoes
What to Bring
Mask, long pants and a great attitude. ****Due to the CDC & Governor Executive Order (OE 2022-003) on 13 January 2022, it will be required for activities of less than 250 people that they bring Vacu ID/Vaccination Card (with Booster) or a 48 hour prior negative Covid test for participants in our activity. We want to ensure everyones safety while we volunteer in this Historic Service Project.
Parking Address
Parking will be provided in the underground Fort of El Morro parking lot and volunteers will be transported by golf cart to Fort San Cristobal.
Inclement Weather
Weather will be monitored close to date of project
Who's Invited
Groups;Kids (under 13);Teens;Adults (21+);Seniors (55+);Adults (18+)
Event Contact: Elizabeth Martinez Gonzalez
emartinez@missioncontinues.org
(787) 549-1255
Impact Stories from the Field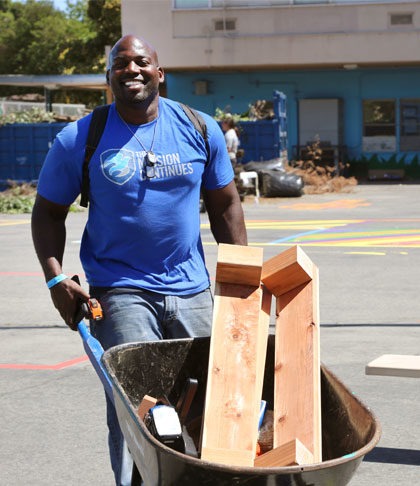 Support our Work in Communities Across the Country
Your donation goes a long way into ensuring that veterans are able to connect with others and make an impact in their home communities.