Event Overview
This year for Motor City Makeover, Detroit Platoons will take the lead! Motor City Makeover is an annual effort organized by the City of Detroit's Department of Neighborhoods to make a clean sweep after the winter thaw. Join us on District 7's far east corner for a neighborhood clean up surrounding the Boys & Girls Club. Help us remove blight, clear alleys, and clean up lots, brush, and debris surrounding the clubhouse. This will help us to secure the route used by youth walking to and from the club by boarding up vacant properties and making the community safer for all. The community and volunteers will convene at the Lloyd H. Diehl Boys & Girls clubhouse to gather supplies and join a team. Register now and stay tuned for more details!
What To Wear
TMC blue shirts, closed toe shoes or boots, long pants, and socks. Volunteers may be helping to clear brush so shorts are not suggested. Wear your heavy-duty gear!
What to Bring
Sunglasses, work gloves, reusable water bottles. PRO TIP: Backpacks and tool belts are preferable over purses and bags if you'd like to keep your belongs on hand. Please DO NOT leave valuables in your vehicle.
Parking
Parking is available in the lot behind the clubhouse off Petoskey.
Inclement Weather
Please use your best judgement and report for the project in rain or shine unless contacted. If conditions are deemed unsafe (i.e. lightening, tornado, etc.) projects will be shifted indoors.
Detroit Platoon
Event Contact: Heather Byington
hbyington@missioncontinues.org
(253) 722-6505
Impact Stories from the Field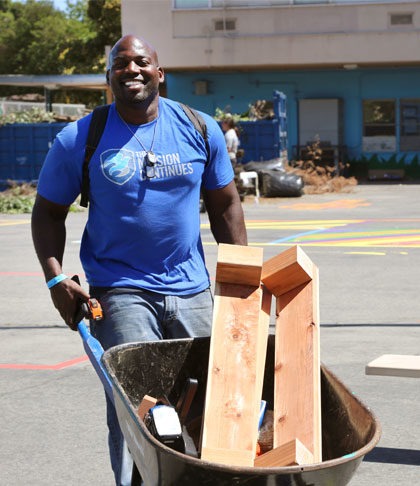 Support our Work in Communities Across the Country
Your donation goes a long way into ensuring that veterans are able to connect with others and make an impact in their home communities.