Event Overview
Veterans Day- Honoring All Who Served! Come out and join all five platoons as we get together for greatness at Eight Million Stories! In the USA, Veterans Day annually falls on November 11, which is the anniversary of the signing of the armistice that ended World War I hostilities between the Allied nations and Germany in 1918. This year, we will honor our veterans on November 17th as we help Eight Million Stories, an organization that provides comprehensive support to previously incarcerated youth. We will beautify this campus and create bright spots so that youth have a positive environment where they can thrive. We need volunteers for the following projects: 1. Painting outside of two buildings 2. Painting inside of two buildings (consist of classrooms, restrooms, and offices) 3. Painting basketball goals (Placing nets on basketball goals and drawing the box on the goal) 4. Landscaping and mulching 5. Re-striping parking lot Registration and breakfast will start at 8:30 a.m. so that we can kick off the event on time. Snacks and lunch will be provided. We hope to see you there!
Houston 5th Service Platoon
Event Contact: Chetkeila Greene
cgreene@missioncontinues.org
(832) 953-4524
Impact Stories from the Field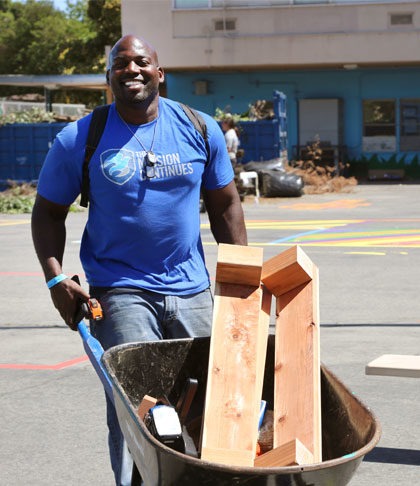 Support our Work in Communities Across the Country
Your donation goes a long way into ensuring that veterans are able to connect with others and make an impact in their home communities.