It's a Seattle Block Party! Veterans Support Immigrant and Refugee Communities
August 24, 2018
On Saturday, August 11th, 2018, more than 100 veterans, community members and partner volunteers reported for duty in Seattle's International District for the 2018 Seattle Service Block Party. For this day of service, volunteers focused on driving local impact on behalf of immigrant and refugee communities in the heart of Seattle's International District.

With support from Starbucks, The Mission Continues volunteers collaborated with The Danny Woo Community Garden and InterIm CDA to help beautify the neighborhood. This synergy was riding on the initial momentum garnered by the Schultz Family Foundation, who gave initial support for the Service Platoon Program's spread to Seattle.

It was really great seeing volunteers from Starbucks and the local tech community join us, including VetsInTech and Code Fellows, as our work aims to unite people from all interests and walks of life under a larger mission.

The day was ambitious, as the project placed volunteers at FIVE unique locations. Veterans from The Mission Continues' Seattle, Tacoma and Portland service platoons took the lead for each site's activities.
Together, veteran and community volunteers accomplished a lot. They:
Repainted the NP Hotel, a low-income housing and mixed-use project of InterIm CDA, including 63 units of low-income housing
Cleaned off graffiti from the prominent Chinatown Arches and did additional street clean up around the arches
Beautified and landscaped at the Danny Woo Community Garden, an area that is usually stewarded by multigenerational Asian immigrant residents in the neighborhood
The Seattle Service Block Party paved the way for transformational change and an opportunity for people to connect with each other and feel a sense of community with one another.

During lunch, the Seahawks Blitz paid a fun-filled surprise visit that brought the house down and spiked everyone's energy. Despite a couple of downpours, seeing veteran leaders and members of local service platoons managing projects at five sites at one time was energizing.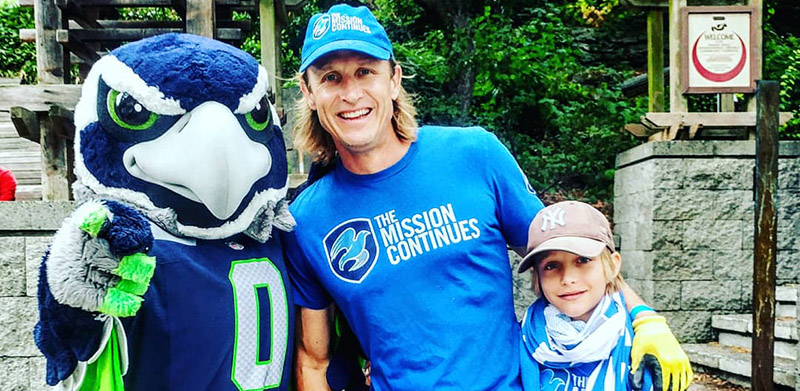 The feeling of accomplishment we all got from having veterans and community members work together to revitalize their local community truly felt like we were all partaking in a shared mission. Spencer Kympton, The Mission Continues president, participated in the project to support our work on the ground, and he couldn't agree more with this sentiment!
Concluding the day of hard work, sweat, smiles and laughter, everyone enjoyed a community celebration with local community BBQ with international flavors because, let's be real, who doesn't love a good BBQ with new friends?

There were so many great things about this collaborative, high-impact day. For our local City Impact Manager Linh Thai, "The project today brought a personal significance for me, because it was in the same neighborhood, a few decades ago, my family spent many weekends to connect to the culture of country of origins through food and cultural programs." This event was a way of paying it forward. "The project ensures many families will continue to utilize the community space to build a more resilient community for generations to come."

What's Next?
The block party was cool, especially seeing new faces, but the real party never ends. This event was part of long-term efforts by The Mission Continues throughout Seattle.

Are you interested in continuing the impact? Join us for our next project. We've also got a special project planned to honor and remember 9/11, a day that changed the lives of many of the veterans who volunteer with us.
Of Course, This Couldn't Be Done Without You
To all the volunteers, first-timers and old-timers — you showed up and gave it your all. You made a positive difference in Seattle. Thank you!

It was a pleasure to work alongside members of Starbucks, The Danny Woo Community Garden, InterIm CDA, VetsInTech and Code Fellows in a shared mission.

Thank you Starbucks, for your support of our work, enabling us to expand and continue impact in communities.