Together, we press on to 2020
The Mission Continues began 2019 with a bold and forward-looking strategic plan that would drive us forward and through the next three years. This plan was a collaborative effort, and a product of internal and external stakeholder input. Most importantly, it was driven by the common desire to create better and more impactful experiences for our veteran leaders and our community partners on the ground.
As we pause now at the end of 2019 to reflect on a year of progress towards that plan, I am immensely proud of the impact we've had on this country. 
We activated over 21,000 veterans and community members at more than 1,500 service events, like this one, in 56 cities.
We brought together 75 women veterans for our 4th Women Veterans Leadership Summit, an annual event that inspired the creation of our Women Veterans Leadership Program (coming March 2020!)
We graduated the inaugural cohort of our Service Leadership Corps, and watched as they headed home to their communities with the skills, tools and network to have tremendous impact as trained community-based leaders. 
We brought our signature Mass Deployment to Baltimore for Operation Charm City Charge, during which more than 80 veterans from across the country joined over 900 community volunteers for 5 days of intensive and deeply impactful service projects (…and we are bringing it to Houston in 2020 for Operation Bayou City Blitz!).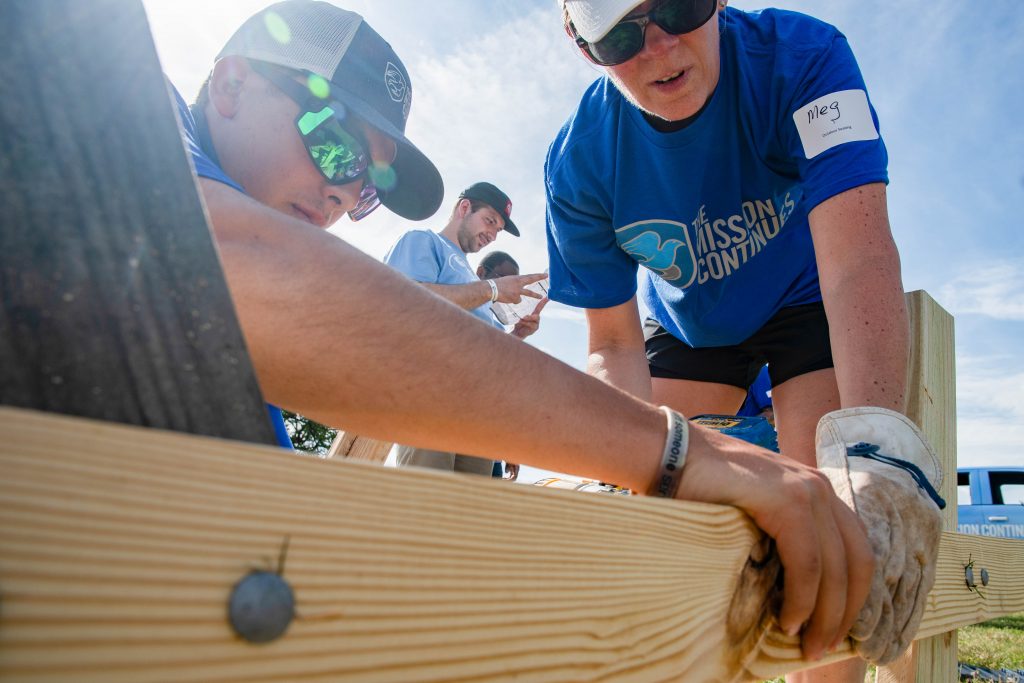 We hosted regional summits for the veterans that lead our service platoons across the country, providing a deeply connected experience that celebrated the larger movement that each of them helps to grow.
We added capacity (and still are) to our team to prepare for our future, ensuring that we grow our reach, our impact, and our influence in the coming years.
Through all of this work, we remain focused on the future of this country, a future in which all veterans with a desire to continue their leadership have an opportunity to lead efforts in under-resourced communities. It is a future in which all people, veteran and non-veteran, see service as an opportunity to connect to those who live, think and work differently than they do – all while having a measurable and visible impact in our communities. It is also a future that appreciates the positive impact of purposeful and socially-connected work on our mental health, and the potential to scale that solution to all.
And so, we press on to 2020, hopeful and excited about the future of The Mission Continues, grateful beyond measure for the tens of thousands of veterans who have already chosen to join this movement of service, and motivated to grow our impact in the coming years.
Cheers to 2020 and all that's to come. Happy New Year. 
Mary Beth Bruggeman is a veteran of the United States Marine Corps and the president of The Mission Continues. Follow her on Twitter & LinkedIn.
National Days of Service/Service Platoons
Jan 15, 2021
Service Platoons/Success Story
Nov 11, 2020