A Glimpse of What We Accomplished on Veterans Day in 2018
We'd like to share a compilation of just a few of the many service projects veteran and non-veteran volunteers accomplished in honor of Veterans Day. For us, Veterans Day is not about thanking veterans for their past service. Rather, we seek to redefine it as a day when we tell veterans they are STILL assets to their country, and they can serve again in new ways. So instead of saying "Thank you" — we say "We still need you–thank you for your CONTINUED service."
Check out additional service projects like the one in Orlando!
Of course, our heartfelt thanks to our friends at BAE Systems, Inc., who made these projects possible through their support. We've had an incredible impact as a result!
Philadelphia, Pennsylvania
Philadelphia, where our Philly service platoon members joined our friends at Travis Manion Foundation, Student Veterans of America, Team Red, White & Blue & Team Rubicon to serve alongside President George W. Bush, Mrs. Laura Bush, and folks from the George W. Bush Presidential Center.
Pittsburgh, Pennsylvania
South Hills Platoon (Pittsburgh 3rd Platoon) supports of the food security, literacy and civic engagement of refugee and immigrant population in the South Hills communities of Pittsburgh. This Veterans Day project ensured that the community garden was cleared to borough standards and prepared them to sustain their garden for next year.

Together, members of the Bhutanese refugee community joined with area veterans and other volunteers to cleared the entire garden, with over 50 plots, and built 11 new garden beds.
Baltimore, Maryland
This past July, we launched "Operation Baybrook" in South Baltimore by relocating our Baltimore 2nd Platoon to the Brooklyn/Curtis Bay area of the city. Since July, we've worked alongside City of Refuge – Baltimore in their mission to restore dignity and self-sufficiency to low income families through supportive services and collaborative programs.

The platoon has worked to clear a once-food growing lot in preparation to revitalizing a new urban garden, retro-fitted a shipping container into a new food pantry (quadrupling City of Refuge's storage space), built picnic tables and benches, and served meals once a month on Friday evenings.

On our November 10th Veterans Day project, we continued this work to help City of Refuge build capacity and make better use of their physical space. We finished installing insulation in the new food pantry, painted the old food pantry and built shelving so it can be turned into the new Baby Supply Room, painted two floors of a donated row-home that will serve as transitional housing for displaced families, continued maintenance and brush clearing on the future "Refuge Garden," organized and built shelving for the clothing bank shipping container, and painted a color-block mural on two shipping containers that will eventually serve as a clothing distribution pavilion.

Being a veteran is being a person of service. That you served your country for a few years or over 20 years, you have in you to be a person of service. When you volunteer with TMC, not only you are able to meet other veterans and network, but you continue to be an asset. Instead of being an asset for the Defense of the US, you are a civic asset for your community.  


Christophe Paul, Baltimore 2nd PL and Active Duty Army
It was a pleasure coming out this past weekend and helping out with the Mission Continues.  My son and I look forward to more volunteer opportunities with the organization. As a local business owner, this project was impactful since I was able to give back to the community I serve.


Dharmesh Shah
Arlington, Texas
We partnered with WWP and Home Depot Foundation to renovate the Veteran Lounge and Veteran Assistance Center at University of Texas at Arlington. The Veteran Assistance Center houses 6 VSOs and serves about 2,595 military-connected students with a wide range of educational needs. Both spaces haven't been updated in over 10 years and we renovated the spaces into a more welcoming, spacious and accessible environment since a majority of their student veterans are disabled and aren't able to utilize the space in its current condition.

A group of 64 volunteers removed all their existing carpet and demoed the cabinets and installed it with new hardwood flooring and new cabinetry, appliances and countertops, and repainted the rooms. Thanks to the volunteers from CarMax who came out too!

Los Angeles, California
The Dream Center is just outside the Promise Zone, however we refurbished their garden and their outdoor picnic area, which fits into part of the Promise Zone Operation with works to increase access to gardens and green space. The garden at the Dream Center serves as a peaceful place for residents to sit and relax. The veterans who live at the Dream Center often volunteer with The Mission Continues, including support of Operation Watts is Worth It.

Built shade structure, 4 benches, replaced lattice on entry way, built new trellis, painted all existing planter boxes and woodwork, pulled weeds in garden, removed old compost bin and other debris, built 2 new compost bins, replaced hardware and wood on 7 picnic tables in family area, mulched garden space and plants outside garden, created 'Welcome to the Garden' sign, demolished concrete wall in picnic area.

This project was made possible by a grant from Walt Disney Company voluntEAR and Marine veteran, Joshua Altomare.

Today would be my grandfather's birthday. He served in World War 2 in the Battle of the Bulge and he was like a father figure to me. He told me about the importance of giving back and service, that's why I'm out here today.


Dave Lieberman – Engineer for Riot Games
Washington, D.C.
The DC Veterans Day project at Clay Terrace was a huge hit! We engaged the community, strengthened our relationship with community partners, and built some incredible momentum for the platoon program and our operations.

We had a strong turn out with 103 registrations. Inside of the OSAY youth center we constructed shelving and organized books and clothing; deep cleaned the floors and walls; painted the walls and doors, and fixed hinges on bathroom doors. Outside we built a ramp to cover the muddy pathway behind the center, constructed a retaining wall to hamper run-off, planted trees and flowers, and built two picnic tables.

At the Clay Terrace courtyard we constructed two planter benches and painted 5 worn benches surrounding the courtyard area.

St. Louis, Missouri
Our project was part of Operation Crayons to College. We wrapped up our 2 year partnership with the Normandy Kindergarten Center by painting the final level of the school (3 hallways) and repairing damaged walls in the rest of the building. There were large areas of peeling paint, which was a safety issue for students, and a morale issue for staff and parents. Big thanks to volunteers from Carmax, Starbucks, and Boeing!

As a Coast Guard spouse and Starbucks partner, this holds a special place in my heart. We are honored to have the opportunity to serve.


Erin Mainord
New Orleans, Louisiana
The New Orleans 1st Service Platoon was able to provide safe seating for all to gather for years to come to continue to tackle the need for food resources in the area. 39 volunteers built 2 picnic tables, 1 ADA picnic table, 3 benches with planter boxes attached, one Directional Post, and planted several vegetables for Guerilla Gardens.

Guerrilla Gardens is located in the Lower 9th and it is committed to community revitalization through address the food desert in the area.  Guerrilla Garden had been using unsafe/worn benches and picnic tables to gather together to learn about ways to improve food access.

A special thanks to volunteers from Home Depot, Kipp Renaissance High School, Planet Fitness, Team Red White and Blue, and Loyola University!

We should all give back and serve the communities we live in. I believe in giving people a hand up and not a hand out. I am honored to serve again with my fellow vets to continue to make this world a better place. David Lastrapes- Platoon Member

This project was about the continued growth of a community still struggling to revive itself after being left behind while the rest of the city flourish.- Evelyn Holland- New Volunteer

San Antonio, Texas
Since March of this year, San Antonio's 1st Platoon has partnered with Stephen Lucke, founder of Gardopia Gardens which sprouted in 2015 to address health disparities in a high-crime corridor on the near-Eastside of San Antonio. Initially funded by the San Antonio Housing Authority (SAHA), Gardopia implemented crime prevention through environmental design (CPTED) as a methodology to reduce crime around an abandoned lot.

Working with SAHA, this became the Eastside's first "gardopia" or garden utopia, where neighbors grow their own food and transform their community. Together, we aim to achieve his vision of a sustainable society, empowered and educated to lead healthy lifestyles through gardening through garden-based learning.

To honor Veterans Day, 45 veterans and volunteers from our new sponsor Starbucks, CarMax, local universities and communities garden gathered at the main garden at Gardopia and another
community garden revitalized during our 9/11 Event. We began construction on enclosing the outdoor kitchen and much needed garden beautification at Gardopia. At the newly revitalized Woodard Park Garden, another team of veterans and volunteers planted fruit trees, assembled garden boxes, spread mulch and soil for beautification.

A lot of times I feel lost and alone, but since I joined The Mission Continues, I feel connected because I am with other veterans plus it feels good to have a purpose since leaving the military and still helping others.

"My husband signed me up to come out and I didn't know what to expect. Now that I am out here, it has been great and fun so if you ever get a chance to come out, you should–it's really great!

 I love this and what everyone is doing here, this is so cool!"


Starbucks volunteer
Cleveland, Ohio
In Cleveland we had 24 volunteers for our Veterans Day of Service campaign at Cuyahoga Valley National Park (CVNP).  Our work with CVNP focused on a trail near their Environmental Education Center. Approximately 10,000 children use the trails around the center each year.  Many of the children are from underserved neighborhoods in Cleveland and this is their first time being outside the city.

For a child who might only have a single pair of shoes, their experience won't be positive if they are trekking through mud and muck on the trails.  Repairing 75ft of trail might not sound like much, but when it's used by thousands of children a year, many who are in the National Park for the first time, and it is generally a muddy mess, the results are felt for years to come.

The Cleveland 1st repaired approximately 75ft of trail by raising the path 10 inches and creating a natural diversion for the water to flow across the path. To do this, the platoon moved approximately 4 tons of rock and sand by wheelbarrow, bucket and hand.  They also played "Tetris" with 50+lb slabs of smooth rock to create the natural water crossing!

We had volunteers from Carmax and our newest corporate sponsor, JACK Cleveland Casino also brought volunteers.  The Carmax team then donated a generous gift!

My father was Active Duty for 25 years and Veterans Day is a very meaningful time for my family. It was a great day to get out and support a veteran organization. I'm grateful for the opportunity and I look forward to working with the platoon in the future. My daughter and I really enjoyed our time at Cuyahoga Valley National Park today. We feel pride knowing that thousands of kids will be using the trail that we helped work on today. 


Josh Huthmacher, First time volunteer, CarMax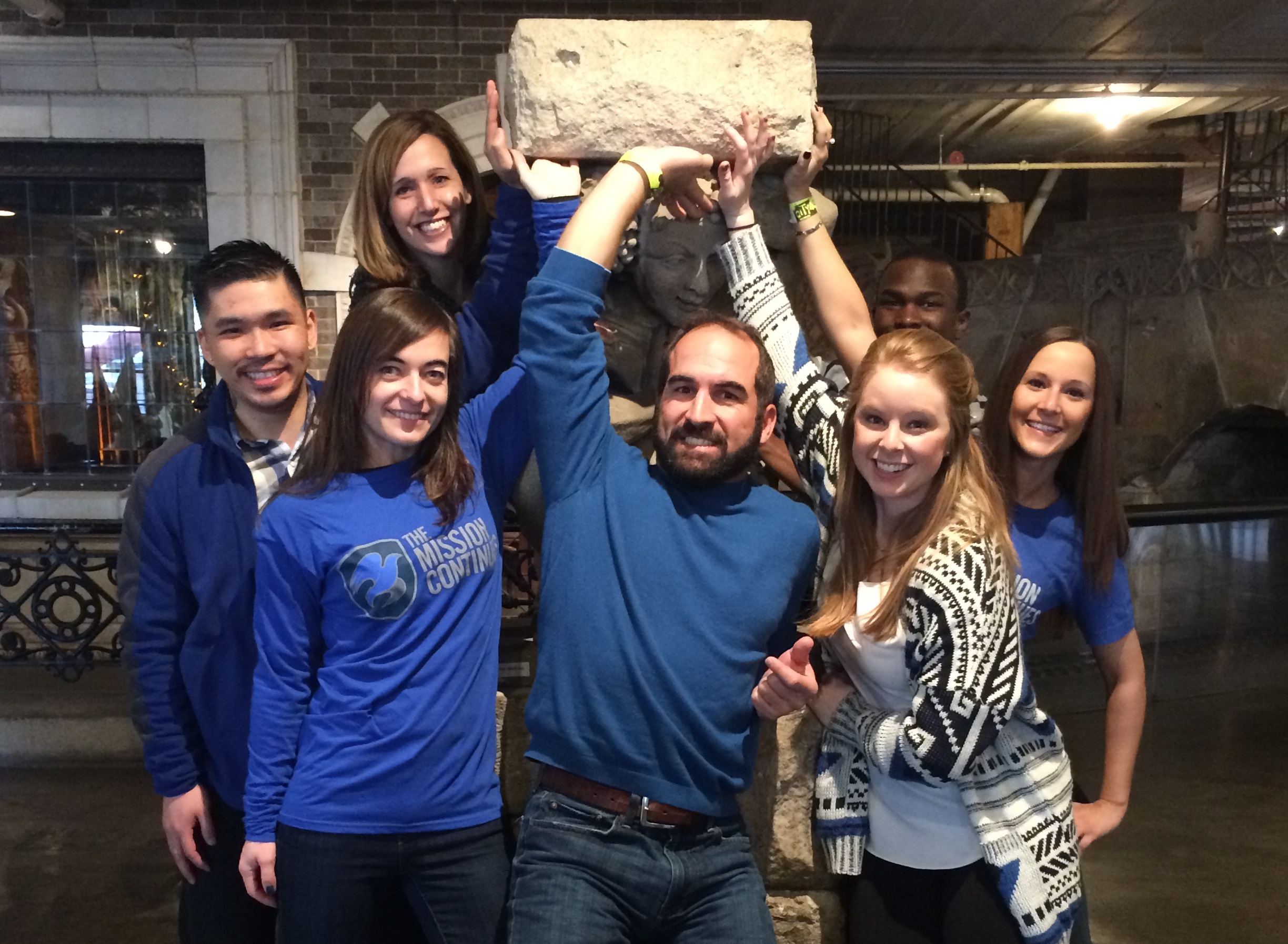 Not only was volunteering with The Mission Continues fun, but it also allowed me to speak with and appreciate many veterans throughout the day. Everything that the vets have given to our country, I thought the least I could do was help them for one day in their mission to give back to the local community. Unlike other volunteering orgs, I could see the progress we had made and the impact it would have on the community. I would definitely recommend getting involved with The Mission Continues!


Michael Swanson, First time volunteer, platoon community member
"As a company we have many members of the JACK Family who are veterans, from hourly team members to executive leadership. These veterans, not just our team members but all who have served, made the choice to protect our country, our rights, families and our freedom and because of that we want to do all that we can to make the choice to support them. This project, and all the projects the Cleveland 1st platoon supports, are compelling  because they are bringing a community together, veterans, non-veterans, local business and community partners, to benefit a greater mission. Working in the Cuyahoga National Valley was an exceptional experience being among the beauty of nature and working on a project knowing that thousands of kids a year will benefit from the hard work and hours we put in. Doing this work along those have served was an honor." 


Aleksandra Breault, Communications Manager, JACK Cleveland Casino
"This project has so much meaning to our park.  The work completed on this trail makes the conditions cleaner and safer for the youth who are staying at our Environmental Education Center.  It also helps to create a sustainable drainage system on this particular section of trail. For so many youth who come and stay at this location they are not always prepared with the proper shoes or boots and this project helps them to be drier and more comfortable throughout their stay.  Trail maintenance is hard physical work and so it is not always easy for the park to recruit a group of folks who can help us with it.. TMC came with the right spirit and energy to complete this very important work. We are so impressed that a group of veterans and community members were willing to give of their time and energy.  The Volunteer Office at Cuyahoga Valley National Park set a goal this year to do a better job engaging with the men and women who have served our country. Working with The Mission Continues gives us the opportunity to meet this goal and so much more. We are proud of those who served and continue to serve and it is an honor to work alongside them.  We look forward to building and strengthening this relationship now and in the future." 


Josh Bates, Park Ranger, Cuyahoga Valley National Park
This project really had an impact on how I connect with my community. Being able to work alongside both veterans and civilian community members showed me just how deeply invested we all are in supporting each other. To know kids from our community partner, The Boys & Girls Clubs of Cleveland will be able to enjoy this work we did next spring, makes it all that much more impactful. It's a project that really goes full circle in our community." 


Michael Brown, Cleveland 1st Platoon Leader
Boston, Massachusetts
On Saturday, November 10th, the Boston and Lowell Platoons brought together volunteers to transform the interior and exterior spaces at two family-congregate shelters in Cambridge, MA in support of Operation Family First, hosted by the Boston 1st Service Platoon.

Despite the rain and chilly temperatures, 30 veterans and community volunteers arrived ready to serve, and as a team they redesigned an outside play area that will be the foundation of a future swing set in 2019, cleared 27 bags of overgrown limbs, vines and yard waste, hung new curtains and wall decorations to brighten up the white walls inside, painted and put down new flooring in the children's playroom, and deep-cleaned all of the common areas including kitchens, dining and living rooms. Our service on Saturday made these shelters safer, healthier, and more welcoming to the children and families that are most vulnerable.