Kicking Off Veterans Day with a Sunshine State Boriqua Build
On Saturday, November 3, veteran leaders drove large-scale impact in Orlando, Florida in celebration of Veterans Day. Saturday's event is just the beginning of The Mission Continues' Veterans Day service campaign, in which 50 cities will be celebrating veterans by joining forces with them in community impact.

Fifty platoon members from Miami, Broward County, Tampa, and Jacksonville joined Orlando 1st and 2nd Service Platoons for a high-impact project. Volunteers built furniture for displaced Puerto Rican families resettling in central Florida.

Hurricane Maria forced more than 2,000 Puerto Rican families to evacuate to central Florida with only their most personal possessions in tow, leaving behind heavier items such as furniture.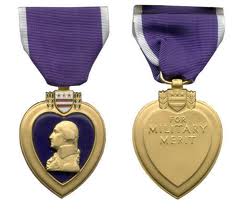 The Mission Continues' Florida Service Platoons assisted these families as they transition into long-term housing by:

Building furniture to replace the items lost in the hurricane;
Stuffing "Welcome Home" kits with items such as linens and cleaning supplies;
Packaging emergency supply kits for victims of Hurricane Michael; and
Offering activities for youth to learn about community service, courtesy of The Walt Disney Company.

Mohan Sivaloganathan, northeast executive director for The Mission Continues said, "The Boricua Build project is a testament to the transformative power of service. We're transforming the narrative of veterans away from the dated stereotypes of old to a newer, more aspirational vision of service-minded veteran leaders taking a stand for people and communities in urgent need. And in turn, we are making a unique contribution to the hundreds of Puerto Rican evacuee families who deserve the opportunity to transform their own lives. That audacious sense of transformative purpose – and demonstration of action – is what our country is hungry for right now."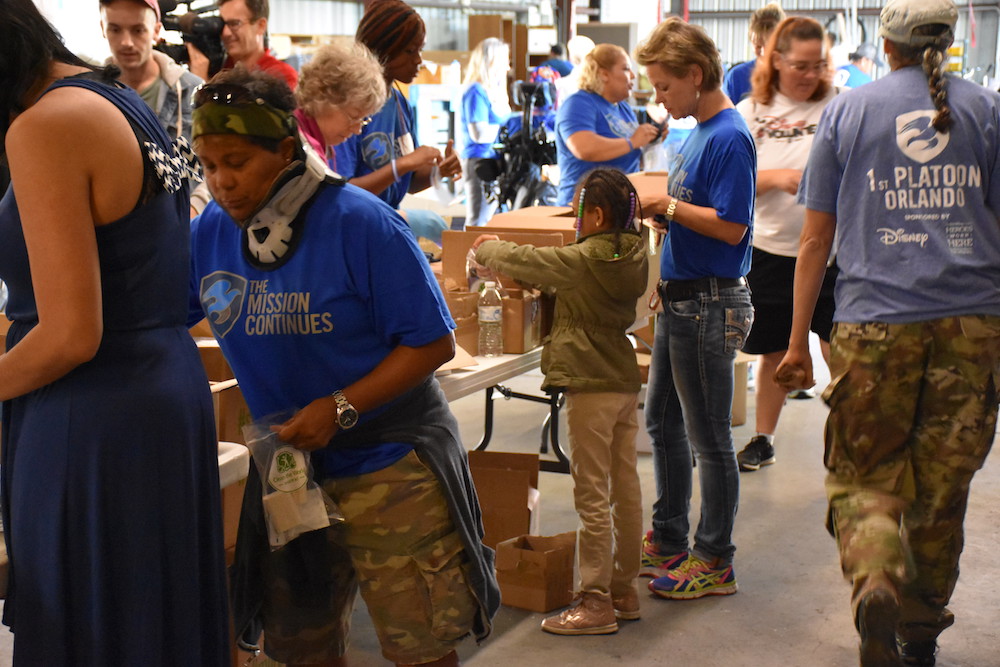 Mateo Tanner, City Impact Manager for The Mission Continues was proud of what the group accomplished. "When you combine the unparalleled support system found amongst veterans with their collective skillset for communications, logistics, leadership and service, what you can end up with is what we all experienced Saturday."

The results speak for themselves. Mateo recounts, "In one day, we built 225 pieces of furniture, 1,000 hygiene kits, repaired 50 bikes and sorted and built over 100 welcome home kits. When our country's veterans join forces for continued service, I challenge you to find another group that can match their level of community impact."

Platoon Leader Bobby Withers reflected on why this project meant so much to him. "Alleviating suffering has become my life's mission and I can't begin to imagine the turmoil, chaos, and uncertainty of getting on a plane with only what I could carry and relocating my family to a new home. Loving my neighbor is a value I hold dear. Even if that neighbor doesn't look like me, I have a duty to care for my fellow human in their time of need."

"I want the furniture, bicycles, and welcome home kits we built to bring families a renewed sense of normalcy and dignity. The dignity of your child doing their homework at their desk, or serving your family dinner around the kitchen table."

Overall, "My favorite part of this project was bringing people together. Over 100 volunteers from across the state of Florida and beyond came out to forget themselves and put their values into action in the service of others."

We made a difference in the lives of these hurricane victims and evacuees with support from The Walt Disney Company, Westgate Resorts, The Home Depot, Clean the World, Osceola County, Airbnb, and more. Thank you to everyone who pitched in! Here's the full list:

The Home Depot
We received a $9,500 grant through the Team Depot grant program for this project. We partnered with the Atlanta office and a local Home Depot in Apopka, FL to make this happen. With this grant, we have purchased just over 100 pieces of furniture (dining room table sets, desks and children's chairs) that will be built and distributed to Puerto Rican evacuee families in Central FL.
Home Depot also committed to bring appx 25 volunteers to join us in service.
City of Orlando
City of Orlando Mayor Veterans Advisory Committee donated $2,500 to the weekend.
Westgate Resorts
Donated $10,000 to The Mission Continues in Orlando in May. This is what got the ball rolling for us on the idea to use a part of that donation to go towards an event in Orlando!
Westgate team has been phenomenal during our months planning. They have also provided accommodations for 50 veterans Friday and Saturday night and dinner for 100 guests Friday night.
Goodwill
We have had a long-standing and strong partnership with Goodwill of central Florida. They have been incredible in preparation for this project. They donated a majority of the supplies that we will use to package 100 "welcome home kits" for Puerto Rican evacuee families. That includes children's books, linens, cleaning supplies and essential household items.
They delivered all of these donations to our project site for us, and their Director of Logistics, John (who is a platoon member and veteran), appeared as Batman during the project.
Goodwill is also allowing us to take old furniture they have and repurpose it to donate to Puerto Rican families.
Disney
As the lead sponsor for Orlando 1st, Disney is always gracious with their time and resources. They sent volunteers, where they ran arts & crafts for all youth that showed up to the project.
Airbnb
The Airbnb team that covers their Open Homes program has been amazing. They offered us $2,500 in home credits to be able to house our veteran volunteers and staff for 5 days in Orlando for the project.
Osceola County
County commissioner offered us an 8,000 sq. ft. warehouse free of charge for 8 weeks. This was an absolute lifesaver for this project. IT enabled us to get all of our project supplies delivered and staged before Saturday, and store the finished product as we continue to work with local nonprofits to come and get the furniture to provide to Puerto Rican families.
Clean the World
We wanted to make sure that in addition to support Hurricane Maria evacuees in Florida, we could find a creative way to also support Hurricane Michael victims in the panhandle, as this happened during our planning process. We identified the national nonprofit Clean the World, who have a corporate location in Orlando, and asked how we could partner. They were excited about our work, so we picked up and delivered enough supplies to package 1,000 hygiene kits on Saturday, which we then returned to Clean the World the following Monday. They will be sending 900 of those kits to the panhandle for hurricane victims, and 100 of them we will add to our donations for Puerto Rican evacuee families.
Rusty's Bicycle Recycle
Our Platoon Leader Bobby Withers has 50 bikes that are damaged sitting in his garage from a previous donation the platoon received. We hadn't yet figured out what to do with them until we found this awesome local nonprofit. They sent their mobile repair out on Saturday to help us repair our 50 bikes. These bikes will be added to the donations going to Puerto Rican evacuee families.
Hispanic Federation
This is a local central Florida group that focuses on supporting the Puerto Rican community. They have been an instrumental partner for us in figuring out how we can support the evacuee community. They were the ones who told us that families are transitioning out of temporary housing and into their own rental units. This is why we have decided to build furniture and welcome home kits. The Hispanic Federation will also serve as our lead partner to communicate logistics with the 2,000 families in their database to arrange the distribution of all the finished donations.
Veteran and non-veteran volunteers regularly serve as part of the Orlando 1st and 2nd Service Platoons, on a mission to support those affected by recent hurricanes and the resulting humanitarian crises. The service platoons are open to all–veterans and non-veterans alike–and newcomers are ALWAYS welcome!

Our ability to continue dreaming up these projects and ultimately executing on them is not possible without our incredible sponsor, Disney. For years they have stood by our side, supporting our Orlando 1st Service Platoon through much more than sponsorship. They have welcomed us in for brainstorming sessions on volunteer projects and most importantly, they have rolled up their sleeves and served alongside our men and women. We have now spent the last two Veterans Days in Orlando serving with Disney, and we look forward to continuing that trend for several years to come!