Event Overview
We are heading out to The Sunshine Foundation on March 3 in the afternoon to complete a list of projects for the Dream Village that we want to complete for 2023.

About The Sunshine Foundation (Proudly Partnering with The Mission Continues since 2022)

The Sunshine Foundation answers the dreams of chronically ill, physically challenged, and abused children ages 3-18, whose families cannot fulfill their requests due to the financial strain that their child's illness may cause. Sunshine Foundation is a national wish-granting organization that answers the dreams of children that have a chronic, life-long illness or medical condition rather than a critical or life-threatening diagnosis. The disadvantaged children we serve are from income-limited families and suffer from chronic conditions including spina bifida, cerebral palsy, muscular dystrophy, Down syndrome, profound low-functioning autism, brain, and spinal injuries, Type 1 diabetes, post-traumatic stress disorder, injury from abuse, and many others.

We are planning for a large group of volunteers for this event. When registering please sign The Sunshine Foundation Waiver located here:

Adult Volunteer – https://sunshinefoundation.org/liability-waiver-adult/

Child Volunteer – https://sunshinefoundation.org/liability-waiver-child/

Please indicate which team you would like to be on based on the following choices:

Team 1 – Paint the Game Room (5 volunteers)

Team 2 – Paint the Kitchen Area (5 volunteers).

Team 3 – Landscaping at Cottage 4 (4 volunteers)

Team 4 – Putt Putt golf area needs mulch laid (5 volunteers)

Team 5 – Paint the rainbow sign with touch up paint (2 volunteers)

Team 6 – Clean pool furniture (4 volunteers)

Team 7 – Clean patio furniture at the 7 cottages (4 volunteers)

Team 8 – Hang bird houses in the trees (4 volunteers)

Team 9 – Clean the pathway to the horse area (10 volunteers)

Team 10 – Paint the white horse corral fence (25 volunteers)

Team 11 – Build 6-7 park benches and paint & stain them (30 volunteers)

Team 12 – Playground clean up – needs racking and clean up at the small and large playground (15 volunteers)

Team 13 – Hospitality and Floating (4 volunteers)

Team 14 – Team Leads / Runners (15 volunteers)

Team 15 – Paint Clean Up (15 volunteers)

We will need folks that can help with prepping earlier in the week and day of event for this event. If you can help with prep days, please email Nicole Castillo – Orlando Platoon Leader at ncastillo@missioncontinues.org Thanks!
What To Wear
TMC blues;Clothes that can get dirty;Painting clothes;Cold weather;Warm weather gear;Closed-Toe Shoes
Parking Address
5400 County Road 547 N., Dream Village Rd, Davenport, FL 33837
Inclement Weather
In case of inclement weather we will move most of our work indoors and change the teams
Accessibility
Uneven terrain;Wheelchair accessible site and bathrooms;Handicap Parking available;Jobs available for persons with limited mobility
Who's Invited
Groups;Kids (under 13);Teens;Adults (21+);Seniors (55+);Adults (18+)
Event Contact: Nicole Castillo
ncastillo@missioncontinues.org
8633035246
Impact Stories from the Field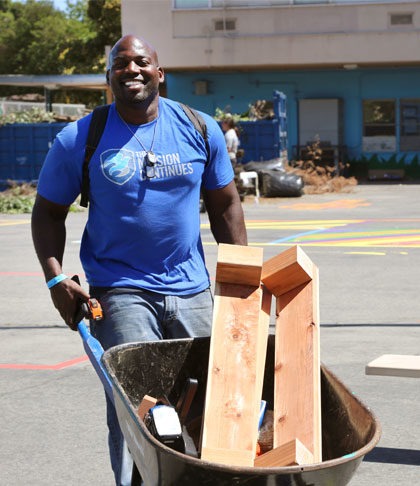 Support our Work in Communities Across the Country
Your donation goes a long way into ensuring that veterans are able to connect with others and make an impact in their home communities.