Event Overview
⚜️Great Day, Family🙌🏽💙 Join us for our 1st annual end of year celebration and monthly meeting at VFW Post 665 Moina Michael after picking up trash from the Victory Drive Historical Marker of August 15, 1945 that designates that the road to Ft. Benning, Ga will be called Victory Drive in honor of the women and men that fought in World War II. It reads as follows: "On August 15, 1945, celebrating the surrender of Japan which ended World War II, the Muscogee County Commission unanimously voted to rename the boulevard extending from Columbus to Fort Benning as Victory Drive. Commissioner L.R. Aldridge stated, "No time could be more appropriate than the day following the night when we know victory is ours." Ft. Benning Commanding General William H. Hobson responded to the gesture: "We believe that so designating the highway as 'Victory Drive' will be long-lived testimonial to the men and women of Georgia, and the men and women who have trained at Fort Benning during World War II, for their contributions to Victory." We will meet at the VFW at 0900. Commence clean up efforts at 0930. Photo at marker 1200. Pre-Celebration and lunch at 1p at VFW. Break before the dinner at 3p. End of Year Celebration from 6p – 11:30p We have much to celebrate and discuss. We will continue to make greatness happen Together! #CharlieMike
What To Wear
TMC blues;Business casual;Casual (nice jeans, etc.)
What to Bring
Bring your ideas that will make our impact long lasting. Bring new team members.
Parking Address
VFW Post 665 Moina Michael 1824 Victory Drive Columbus, Ga 31903
Accessibility
Wheelchair accessible site and bathrooms;Handicap Parking available;Jobs available for persons with limited mobility
Who's Invited
Groups;Kids (under 13);Teens;Adults (21+);Seniors (55+);Adults (18+)
Event Contact: LaKesha Stringer
lstringer@missioncontinues.org
+17065624992
Impact Stories from the Field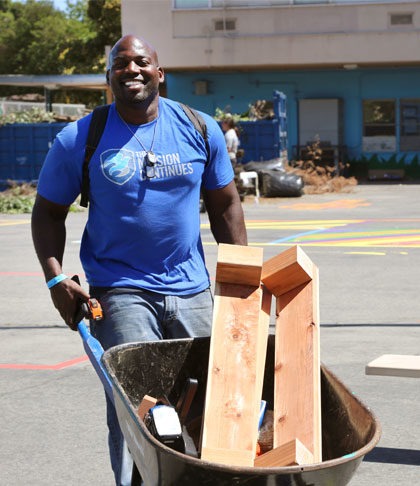 Support our Work in Communities Across the Country
Your donation goes a long way into ensuring that veterans are able to connect with others and make an impact in their home communities.