Event Overview
Jane Long Academy and Las Americas Newcomer School are two middle schools that share the same campus in the Gulfton community, with Las Americas Newcomer School serving as an alternative school for immigrant and refugee students. The campus also served as a supply distribution center for more than 400 families after Hurricane Harvey. Our veteran-led team will be refurbishing the Jane Long Academy's outdoor space to build outdoor seating and communal lounge space. At Los Americas Newcomer School, volunteers will create a trauma-sensitive garden and peer meditation space while also working to landscape and beautify the grounds for students.

COVID-19 Safety: In accordance with state and federal guidance to mitigate the spread of COVID-19, all projects will have a cap on volunteers. Social distancing and sanitation will be a priority, and face masks will be required.
Please note: If you are feeling sick, have had any COVID symptoms which include fever, cough and shortness of breath in the past 14 days, or identify as having a higher risk for severe illness please stay home and be safe. While we encourage participation for those that are low-risk and in good health, we ask everyone, irrespective of age and health status, to adopt extra safety measures. We look forward to seeing you healthy at a future project.
The Mission Continues will ensure the safety of our volunteers, partners and the community by implementing safety protocols and procedures. Please contact Elizabeth Barlow at ebarlow@missioncontinues.org if you have any questions.
What to Bring
Volunteers are asked to bring a face mask and wear comfortable clothes and closed-toed shoes. The Mission Continues will provide the necessary supplies and resources for project-related tasks.
Bayou City Blitz
Event Contact: Elizabeth Barlow
ebarlow@missioncontinues.org
(346) 660-0002
Impact Stories from the Field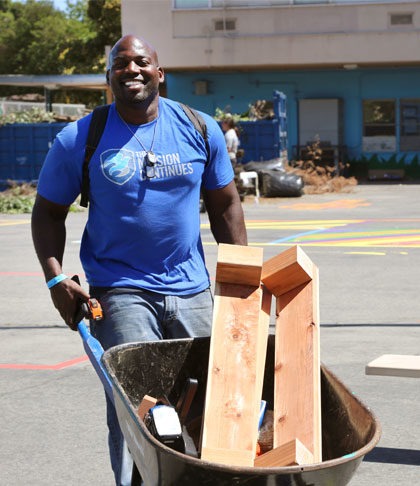 Support our Work in Communities Across the Country
Your donation goes a long way into ensuring that veterans are able to connect with others and make an impact in their home communities.