Event Overview
Food Bank of the Rockies Mission is to Our mission is to help families thrive. Food is a must. At Food Bank of the Rockies, we work with partner hunger relief programs - food pantries, soup kitchens, shelters - and through our direct service programs - mobile pantries, kids meals and weekend Totes of Hope and senior food boxes - to ensure hungry men, women and children in our service area find nourishment and hope. = 4 meals!l Come out and give your time by helping to put together food packages for families in need during this difficult time. Your group has those spots reserved. New COVID-19 protocol now requires all groups have their volunteers register through our system for any shift they volunteer. This allows volunteers to accept our liability waiver, accept our COVID-19 waiver ahead of the shift, and track their hours. It is important for us to be able to track who has been in our building, and advance registrations help us plan for activities the next day. Here is the registration link for your group: http://missioncontinues.foodbankrockies.volunteerhub.com/
What To Wear
TMC Blue shirt. If you do have one, one will be provided the day of the event.
Parking
Parking provided at the Service project location
Inclement Weather
Weather call will be determined the day of the event.
Denver Platoon
Event Contact: Cornelius Kilgore
ckilgore@missioncontinues.org
(719) 930-5218
Impact Stories from the Field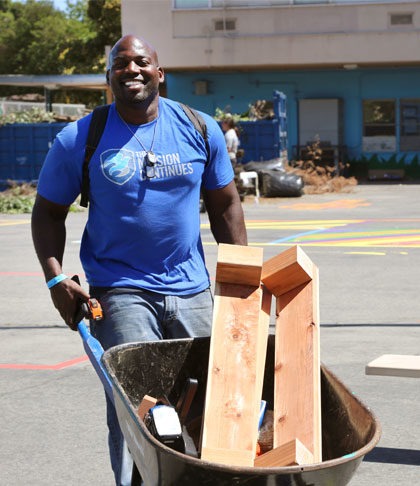 Support our Work in Communities Across the Country
Your donation goes a long way into ensuring that veterans are able to connect with others and make an impact in their home communities.