Event Overview
On 11 September, 2001, thousands of Americans and international civilians lost their live during one of the most traumatic days in recent American history. The Mission Continues has made it our mission to remember their loss and honor the veterans who lost their lives in the fight against the perpetrators. This year, TMC Baltimore 2nd Platoon wants to use its resources and amazing volunteers to help Bliss Meadows get on its feet in an effort to assist them with their food sustainability goals. Bliss Meadows is a recently established urban farm in Northeast Baltimore City and new partner to TMC. Although they are a new entity, they have gained a great foothold in Northeast Baltimore and we want to help them to dig their roots even more deeper. We are planning on expanding their chicken enclosure, building tables for their new greenhouse and doing various other projects to improve their infrastructure. The pandemic has been hard for everybody and Baltimore has also fallen victim to the virus. We understand that not everybody will be able or willing to attend but TMC has put measures in place to keep everyone as safe as possible during our events. If you feel that this is for you, join us on 19 September and let's show this community what we are all about. Let's get back to that team spirit and volunteer attitude. It will also be my last event as TMC Baltimore 2nd Platoon Leader. It has been two incredible years and I want to thank you all for your dedication, love of your community and service to others. I hope to see you there and ready to roll your sleeves to support Bliss Meadows.
What To Wear
Check out the weather before coming. We will have masks, gloves and bug sprays for you.
What to Bring
Masks and gloves if you want.
Parking
Parking available in the street
Baltimore Platoon
Event Contact: Christophe Paul
christophepaul@hotmail.com
(650) 930-6270
Impact Stories from the Field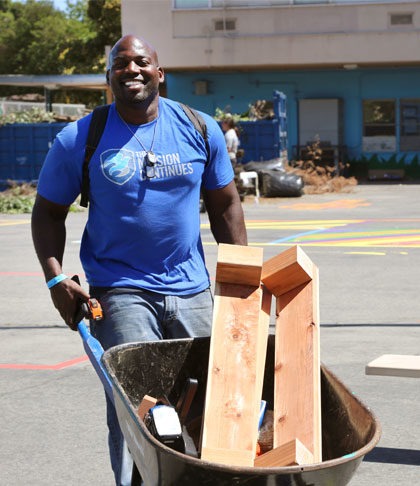 Support our Work in Communities Across the Country
Your donation goes a long way into ensuring that veterans are able to connect with others and make an impact in their home communities.