Event Overview
We will be supporting our community partners at Feeding Tampa Bay's Warehouse. We will be sorting goods inside the warehouse. Be prepared for long periods of standing and lifting. Registration is required online, spaces are limited so please sign up early. Here are some important reminders to help you best prepare for your time with us: You will be volunteering at our warehouse at the Tampa Distribution Center In order to volunteer with us, you MUST wear closed toe shoes. *Your safety is important to us. If you arrive in open-toe shoes, we cannot guarantee an activity for you to participate in and you may be asked to come back another time. We provide all orientation on site at the start of your service - no need to study anything before you see us! Please arrive on time. Parking spaces are conveniently located on both sides of the central parking row outside of our building. Please make sure to park on Feeding Tampa Bay's side of the parking lot—if you park across our lot, your vehicle may be towed. Please DO NOT park in areas marked with traffic cones. Please DO NOT park in the handicap spaces directly in front of our building unless you have a handicap permit. After signing in at the Volunteer Sign-In station, head straight back to the TECO Community Center and orientation will begin after all volunteers are checked in. We provide free bottled water to you and you'll have access to a snack/soda vending machine. In order to volunteer for this event, we suggest volunteers be at least 5 years old. If you have any questions prior to your volunteer session or need any special accommodations, please do not hesitate to contact our Volunteer Services Team at volunteer@feedingtampabay.org
What to Bring
your own mask or one that you are the most comfortable with wearing. I will have some onsite but supplies are limited.
Parking
Parking spaces are conveniently located on both sides of the central parking row outside of our building. Please make sure to park on Feeding Tampa Bay's side of the parking lot—if you park across our lot, your vehicle may be towed. Please DO NOT park in areas marked with traffic cones. Please DO NOT park in the handicap spaces directly in front of our building unless you have a handicap permit.
Inclement Weather
Rain or shine we will be in the warehouse.
Tampa Platoon
Event Contact: Jeaniel Image
imagejination83@gmail.com
8135064612
Impact Stories from the Field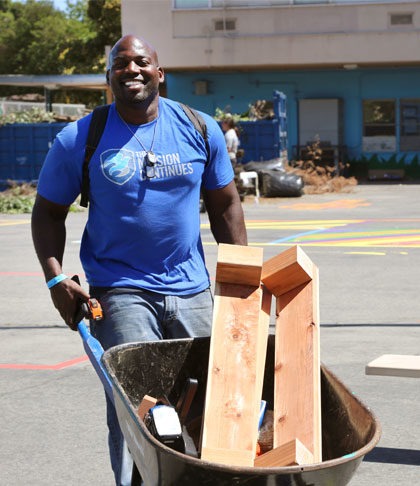 Support our Work in Communities Across the Country
Your donation goes a long way into ensuring that veterans are able to connect with others and make an impact in their home communities.