Event Overview
This year marks the 19th anniversary of the terrorist attacks of September 11, 2001, and The Mission Continues is issuing a call to serve and stand UNITED. The Mission Continues (TMC) Service Platoons nationwide are organizing support events, social events, and service projects for veterans and local volunteers to come together, make a difference in their community, and remember those who served and sacrificed in the wake of 9/11. Killeen 1st Service Platoon is honoring this day by serving and commemorating with the Military Officers Association of America (MOAA) Central Texas chapter, American Veterans Mission (AVM), and other nonprofit organizations serving Bell County at the Wildflower Country Club in Temple, Texas. The event is kid and family-friendly. Central Texas (CenTex) MOAA CenTex MOAA awards scholarships to local high school and college students who plan to attend a Reserve Officers Training Corps (ROTC) at their University of choice. Scholarship awards are based on academic excellence, citizenship, character, and leadership skills. Please join us for camaraderie, buddy checks, and solemn remembrance. Together, everyone achieves more. Charlie Mike!
What To Wear
TMC Blue or another team shirt, hat or headcover, sunglasses, golfing gear.
What to Bring
Motivation and your lovely smiles! This event is kid-friendly and pet-friendly.
Parking
The venue has a dedicated parking lot for participants and guests.
Inclement Weather
In case of inclement weather, we will move the outside portions of the event inside the building.
Killeen Platoon
Killeen Platoon
Event Contact: Anthony Martinez
amartinez@missioncontinues.org
(254) 383-9492
Impact Stories from the Field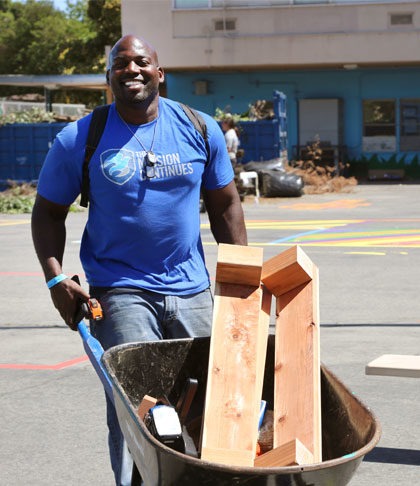 Support our Work in Communities Across the Country
Your donation goes a long way into ensuring that veterans are able to connect with others and make an impact in their home communities.