Event Overview
Join Dallas Platoon as we honor MLK Day 2019! MLK Day of Service is an opportunity for each of us to reflect on the principles of equality that Dr. King embodied. Through his example, Dr. King challenged and empowered individuals to take action and lift up their neighbors and communities by volunteering. In his honor, please join us as we continue our build of the first and only community garden in Oak Cliff! We will break up into teams to complete the below projects: 1. Paint and plant in the 8 planter boxes and 6 beds 2. Build a melon patch area 3. Paint a mural 4. Create a front entrance sign 5. Build 4 rainwater collection system 6. Build outdoor seating for kids 7. Clean up the 10th St community
What To Wear
Come in your TMC blue! Shirts will be provided if you don't have one.
What to Bring
A Friend! All tools and materials will be provided.
Parking
Street parking avaliable.
Inclement Weather
In case of severe rain or cold, we will reschedule
Dallas 1st Service Platoon
Event Contact: Rahiel Alemu
ralemu@missioncontinues.org
(682) 325-1684
Impact Stories from the Field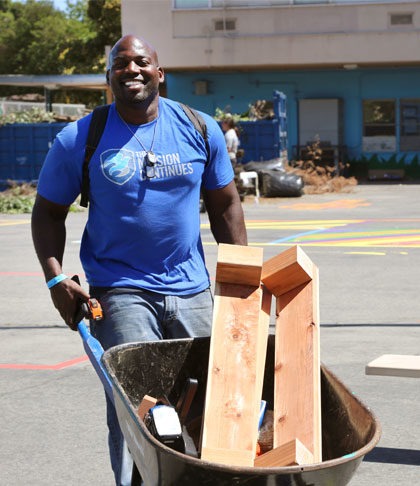 Support our Work in Communities Across the Country
Your donation goes a long way into ensuring that veterans are able to connect with others and make an impact in their home communities.