Why Detroit? Why The Mission Continues? It's Easy—These Are My People
By Heather Byington, Service Leadership Corps member
When I left home in 1993, I vowed I'd never come back for anything longer than a visit. Home was Detroit. What I didn't realize until I had some separation was that the negative feelings I had about the city were a result of my home life and the fact that one of my friends had been carjacked. He was murdered at 19, and his killers were 15 and 16-years old.

The truth is that these crimes were happening all over the country, especially in areas where the chances for poverty were high and opportunities were low. Having just turned 20, I didn't have that perspective and was bitter towards my hometown.

My way out was to join the military, which I did begrudgingly at first for tuition assistance and the opportunity to leave Detroit.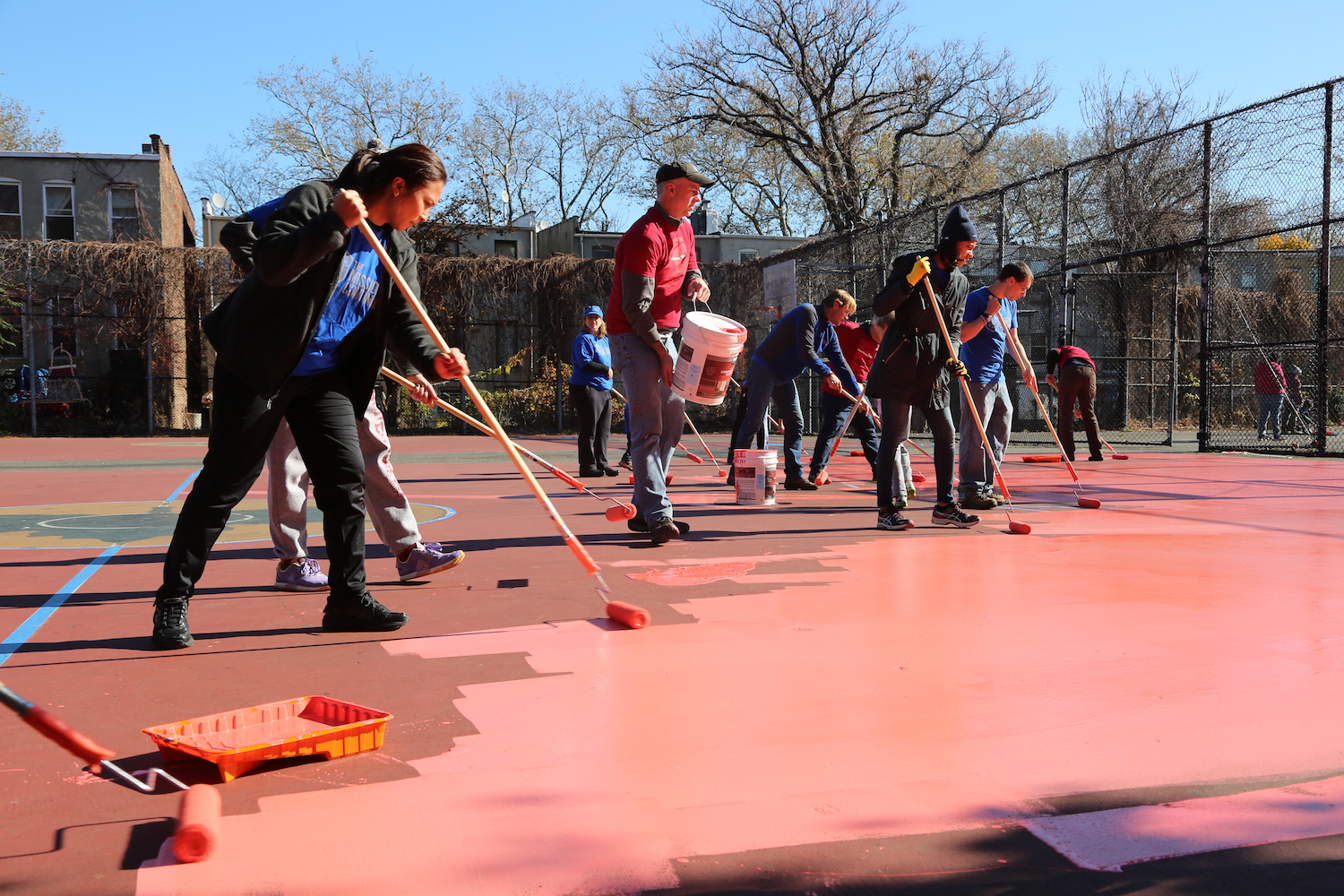 By 2010 I was stationed in Washington, D.C. and was closer to home than I had been at any point in my Air Force career. At this point, I had been active duty for 17 years and rarely came home on leave, determined to experience the rest of the country and the world.

I started visiting home more often, and once my grandmother's health starting declining, my trips home became more frequent.

I found myself defending my city when other people made jokes or comments about the city declaring bankruptcy. I also found myself proudly reciting facts about Detroit—our musical heritage, that we were part of the Underground Railroad, and that the oldest pop in the country (yes, pop) is Vernor's, created right here in the city and the most delicious ginger ale you will ever drink.

Much like the Grinch, as his heart began to swell, I found myself both surprised and delighted at my sentimentality toward Detroit. I took friends there on impromptu visits and beamed with pride on our trips to the Motown Museum, our beloved Coney Islands, and the Detroit riverfront—a unique location in the United States where we look south and see Canada across the water. I'd drive home for Red Wings playoff games and catch Detroit Tigers' spring games, visit friends and family and savor the friendliness of Michiganders.

By 2015 I was on terminal leave, driving back to—you guessed it—Metro Detroit! I realized how much I appreciated the city and the people in it, our grit, our hustle, and the pride in our city, regardless of adversity. We may be financially poor, but we are rich in culture and history.

This is a sentiment and attitude shared across the Rust Belt, cities that have experienced industrial decline but keep moving forward, and these are my people.

I decided that I'd move home and be part of the solution rather than a person who observes from afar or criticizes but does nothing to help the community. If nothing else, I wanted to show the city my financial support by frequenting our ever-growing bar and restaurant scene and buying a house.

I lucked out and had a smooth transition out of the military, landing a corporate HR job immediately and moving into a downtown loft. Although my role involved helping veterans with their own transitions out of the military into the civilian workplace, I soon felt that something was still missing.

I was fortunate enough to be employed by a philanthropist who allowed his team members to volunteer on the clock, and when I heard of the Motown Muster, The Mission Continues' first Mass Deployment, I signed up for one of the service projects and joined their local Detroit service platoon.

I spent the day in Recovery Park building raised garden beds and transporting countless loads of soil into those beds for future use. I was amazed at what I saw that day—it was no surprise to me that when a group of veterans get together for a single purpose, they are unstoppable, but when I saw it in the form of community service and in Detroit, I knew my life was about to change.

Not only did I enjoy the work, I looked forward to meeting more platoon and community members and hearing their stories.

I found out in early 2017 that I was nominated to attend the Women's Veteran Leadership Summit. I applied without hesitation and got in. By the end of the Summit, I didn't want to leave. The weekend wasn't only about community service but also included a great deal of personal development. I enjoyed the instant bonds that so many veterans experience and knew that I had hit a turning point in my involvement with The Mission Continues.

I eventually became less fulfilled at my day job, but not because it wasn't a great environment or meaningful work, but because I've discovered that I'm more driven and satisfied by service than by a salary.

I will always be grateful for the opportunity and the experience there, as well as the salary that allowed me to buy a house in a suburb close to the city. I can honestly say that I can look back with no regrets on my decision to resign. I feel that my personal mission in life is not based on what I earn, but what I can give.

I don't want this to sound like I'm making any sacrifices—giving my time hasn't been without reward.

I couldn't have predicted the benefits I'd receive by becoming more involved with The Mission Continues or my evolution within TMC; I thought I'd be content by contributing to service projects and watching the community slowly transform. However, I'm currently the Detroit 2nd Service Platoon Leader and have been lucky enough to attend Mass Deployment in Watts (which could be its own story) and to be selected to the first cohort of the Service Leadership Corps.

Attending national and regional events is like a family reunion. I truly admire the friends I've made and appreciate how vulnerable and transparent we become when we have a forum to share our struggles and triumphs, no matter how great or small.

I'm grateful for the curriculum that challenges us to make a greater impact on our respective communities and also makes us question how far we want to take our community service and advocacy skills.

I'm not sure what's next on my timeline of personal growth and service, but I'm very open to what the future holds. I'm grateful that I wasn't held back by fear or security and that I decided to trust my gut when it was time to transition out of an affluent area or a traditional workplace.

To anyone who still questions my choices: Why Detroit? Why The Mission Continues? It's easy—these are my people.