San Diego Veterans Are Making an Impact with Future Achievers
By Tristan Williamson
If you were to mention the name Logan Heights to the residents of San Diego whose experience with the historic neighborhood amounts to driving past it on Interstate 5, it's likely that their reaction would be largely informed by the decades-old stigma brought on by the Tijuana Cartel-allied gang bearing this community's name – the Logan Heights Gang. You would hear about the 1-square mile community's reputation for violent crime, how its poverty level sits three times higher than that of San Diego, or its quadrupled population density compared to the rest of the city.

You probably wouldn't hear about the culture of historic resilience in Logan – how what was once the largest Chicano population on the west coast became displaced by new infrastructure as San Diego grew, sowing the seeds of grassroots activism and neighborhood advocacy.

There's a certain grit about Logan Heights derived from that legacy of collective efficacy that has made neighbors out of co-residents. Shared trust and solidarity bring neighbors out of their homes to keep an eye on the side streets and alleyways or to help a neighbor in need.

It has engendered a generation of leaders, activists, and advocates who work tirelessly, making partners of anyone willing in earnest to lend a hand to improve conditions for the people who stand the watch and live out their lives in Logan Heights.

On this year's annual MLK Day of Service, The Mission Continues saw firsthand the power of this spirit of collaboration at Future Achievers Preschool.

Future Achievers is a newly accredited STEAM preschool in Logan that partnered with the San Diego 1st Service Platoon to plan the entire year's worth of work for the platoon's 2019 year of service. That timeline changed drastically when our generous friends at Starbucks and the Starbucks Foundation mobilized over 200 volunteers from around San Diego County to serve alongside 1st Platoon for MLK Day.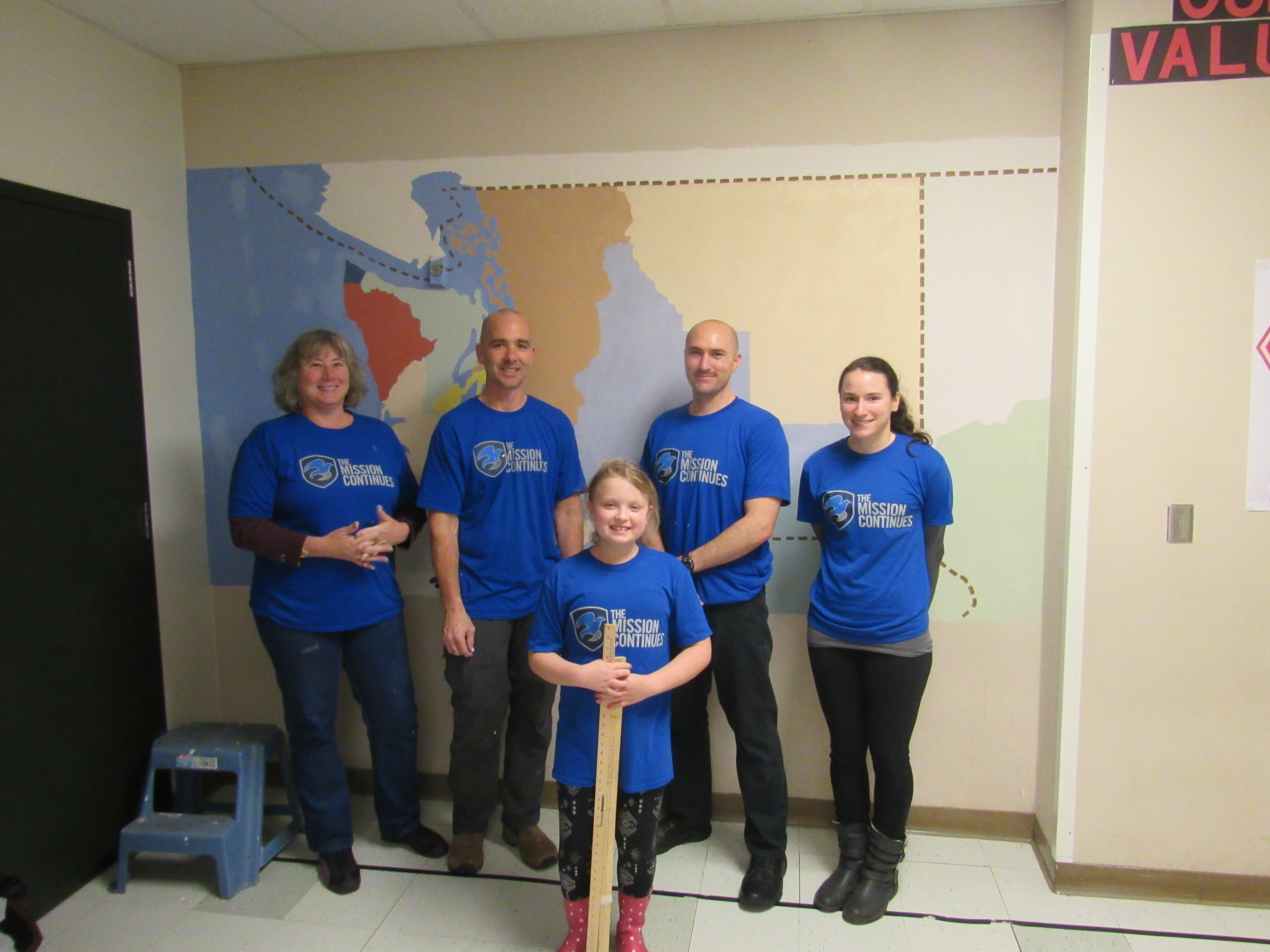 A total of 307 volunteers joined us at Future Achievers to accomplish over 80% of the work planned for 2019. The school's outdoor play area was completely transformed by teams painting four large murals, inside the lot, painting the perimeter fence in rainbow colors, and installing 8 planter beds and 3 kids' rainbow benches.

Volunteers also built cubby benches and storage containers as well as a small bridge over a rocks painted by kids at the project to resemble a river. More veteran and Starbucks volunteers funneled inside the preschool to paint three murals and add a fresh coat of paint on the interior classroom, library, and bathroom walls.

The impact our partners at Starbucks had on this project and, in turn, on our operational goals in Logan Heights cannot be overstated. By funding this project, flooding the site with their impassioned employees, and helping to knock out the bulk of work we had planned for the year in a single day, Starbucks effectively freed up the San Diego 1st Platoon's 2019 project schedule and budget to accomplish even more work at Logan Heights Community Development Corporation, the nonprofit that operates Future Achievers.

And for a small, community based organization doing vital work in a community of high need on a shoestring budget, every little bit helps. Just ask two veterans leading the Logan Heights nonprofit every day.

Monte Jones and Ebony James are both Navy veterans and spouses of active duty service members. Respectively, they work as LHCDC's CEO and Operations Director. The work they put in extends well outside the conventional 9-5 workday. They work nights, weekends, and into some holidays to ensure that residents in their programs get the services they need – and they do it all without taking a dime in salary. So there was no question we had found the right partners for our work in San Diego – veterans called to selfless service in their communities after their time in the military.

We're so humbled and excited to continue our work at Future Achievers and want you to be part of our story of service! Join San Diego 1st Service Platoon for our next event at Future Achievers Preschool to help make an even bigger impact.

We would love to have you serve alongside us. Charlie Mike!