Project Phoenix Rising: Rebuilding Orlando after Hurricane Matthew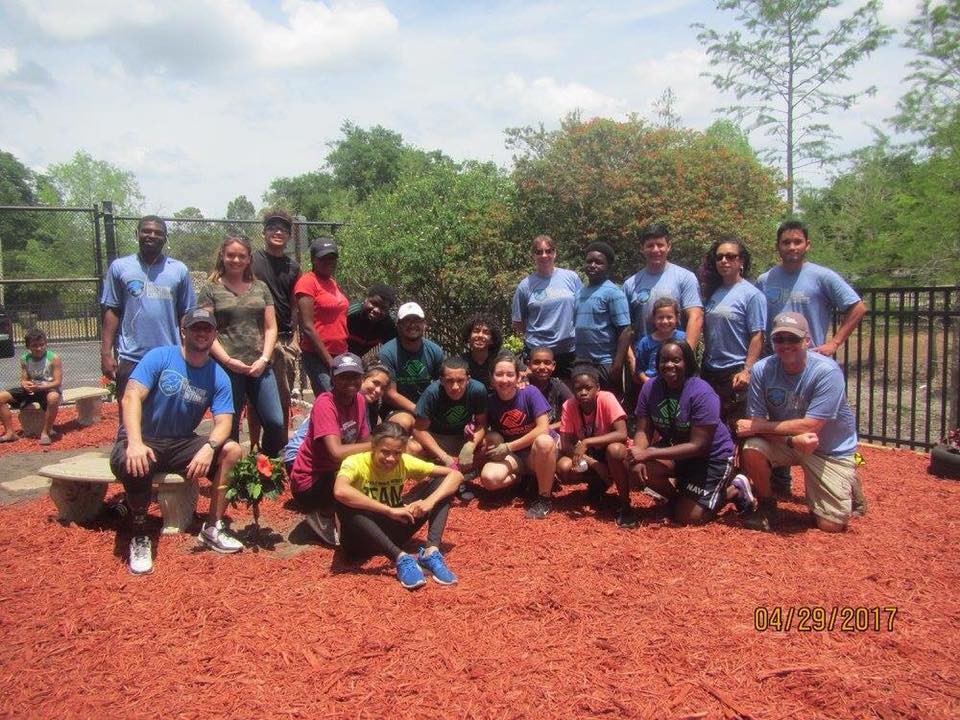 August 17th, 2017
By Robert Withers, Platoon Member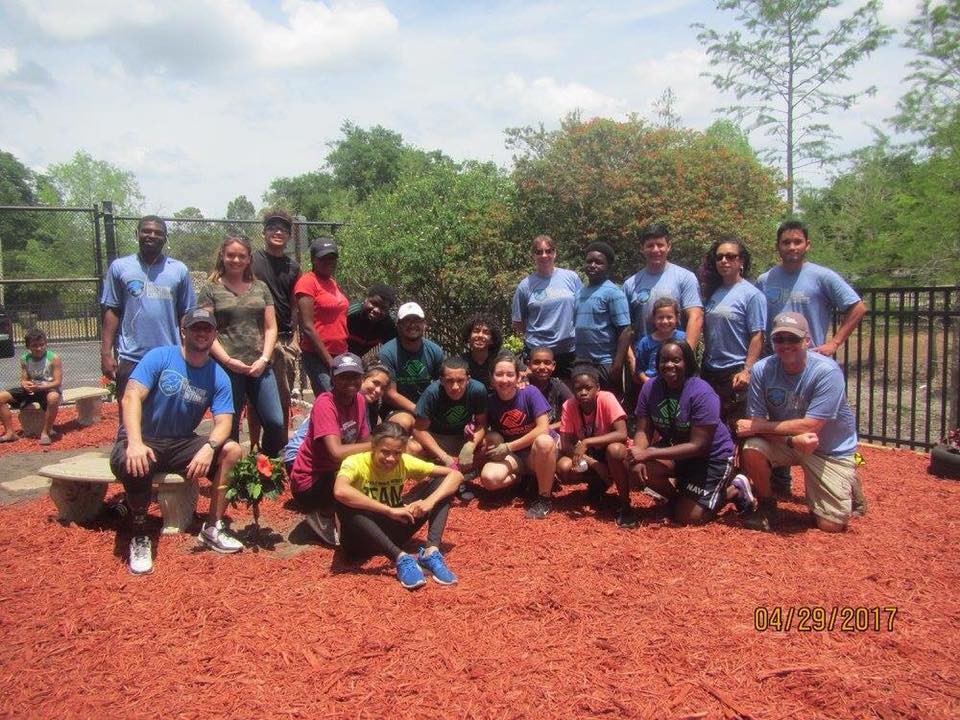 "This community may be 'at risk' — but the children are not.. they're just good kids," said Anna Dieuveuil, Service Director at the Taft Branch of the Boys & Girls Clubs of Central Florida, while volunteers from The Mission Continues Orlando 1st Platoon listened intently.
They were, as their mission states, 'focused on addressing issues impacting local youth in Central Florida.' In many ways, this project would be similar to others the 1st Platoon had done in the past; beautification, building planter boxes, and creating a garden are not out of the ordinary for this group. This, however, would be no ordinary project.
This, however, would be no ordinary project.
DeAngelo Cox and Nicholas Lewis were in the right place, doing the right thing, at what would turn out to be the wrong time. Lewis and Cox were past members of the Taft Branch, innocent young men struck down by a senseless act of gun violence. This garden is where their family, friends, and members of the community could reflect and find comfort. That was before the garden fell into disrepair after Hurricane Mathew and was reduced to a few plants, weeds, and mostly dirt.
Among the Boys and Girls Club members of the Taft Branch, one stood out in particular. Phoenix, the consummate artist and self described 'weird hippie girl' of the Club had faced more than her fair share of adversity growing up, but worked hard to overcome her challenges with grace and purpose.
To say she had a green thumb and passion for plants would be an understatement. Truly, the only things she expressed more of an affinity for than flowers would be her fellow Club members and community. To honor her values and commitment, we named the project Phoenix Rising.
It would take weeks of planning, preparation, and coordination to bring the project to fruition. From the initial recon and planning, to follow up meetings and materials acquisition, 1st Platoon Leader Dan Kalagian made it look easy.
When platoon members, including myself, Angelo Gandola, Laura Pearce, Yaritza Perez, and Carlos Cuevas arrived on a Saturday morning, we knew we had our work cut out for us if we were going to do the project justice.
Luckily, we had reinforcements! More than a dozen local youth from both the Taft Branch and Home Builders Institute-Project Bridge, along with their incredibly passionate mentoring coordinator Melissa Geiwitz, volunteered to join us. Children from HBI-Project Bridge have had interactions with law enforcement in the past but are learning to work with their hands and stay out of future ordeals. While many of them are very reluctant to receive guidance from typical authority figures, they often allow us to mentor them during combined projects.
As Anna would later relay to the Platoon, "in the span of a couple of hours, our Boys & Girls Club was transformed into a garden fit for royalty.  When members walked in Monday morning, their expressions were priceless once they saw the garden. The expression on Phoenix's face once the garden was done, was priceless too. The garden gives Phoenix a sense of hope and peace. No matter what is going on in her life or the things she can't control, the garden helps her find peace. This wasn't just about having pretty flowers to look at, it was about paying honor to our angels that we lost and helping our Phoenix rise."
After the project was complete, Phoenix reached out to say, "I really appreciate what you guys did for me — or should I say us, because the garden did so much more for our community. This started as a memorial garden for two of our beloved members, but so many more have passed that it is now a place of grieving for everybody. You heroes took it from the eyesore that hurricane Matthew left it and made it into a utopia for so many."
The Orlando 1st Platoon hasn't stopped. Since this service project, they have continued helping HBI, and built a home ramp for a disabled veteran there. They are now focused on planning for their upcoming 9/11 project, where they will partner with Orlando 2nd and Tampa 1st in Ruskin, FL.
The project will be for My Warrior's Place, a retreat and therapeutic center for veterans and their families. My Warrior's Place was founded by Kelly Kowall whose son Corey, like many others, gave his life for our continued freedom. Friday, September 8th will be a big prep day on site, and September 9th will be a tremendous day full of project work. We need all hands on deck!
Report for duty in your community with The Mission Continues. Serve with a Service Platoon at an upcoming service event near you or apply for a fellowship. You can learn more about our programs on our website and stay updated on the latest news and announcements on Facebook and Twitter.