New York Veterans Volunteer at Ellis Island
By Vu Nguyen, staff
The Mission Continues is a nonprofit organization, empowering military veterans to continue their service in new ways, and empower communities with veteran leadership, talent, and skills to generate visible impact. In 2018, as an organization, we completed over 1500 service projects, engaged over 21,000 volunteers, completed over 99,000 total service hours. We have over 80 different groups located across the country.
And since we are a nonprofit organization, that work does not happen without the support of our sponsors and donors. We have a lot of service campaigns we do throughout the year like MLK, Day, Earth Day, 9/11, Veterans Day. We have a lot of wonderful sponsors that make sure that large events like this can happen. This year was have Fox Sports, ESPN, and Goldman Sachs.
Wrapped into those large numbers I gave you are things we do locally in New York City and Newark. Our five groups in New York work in East Harlem, in Brownsville, and in the South Bronx, Queens, and Central Ward in Newark. None of that work is possible without our sponsors. Our sponsors locally are Citi, Wells Fargo, and Prudential.
I also want to thank some volunteer groups that came out to volunteer. We have folks from Bank of America, USAA, Boeing, Major League Baseball. Thank you to all of our volunteers who got up early in the morning to be part of our work today.
I get a chance to find military veterans who have completed their service and feel like there is still something more they want to give. I coach and mentor them on how to tackle big issues like hunger, homelessness, fixing basketball courts, and coming out to national parks like this. I also build partnerships with other nonprofits, because we are force-multipliers to help them with what they're already doing. We want to help them do what they do, and get to the vision of what they want to achieve faster with the help of veteran leadership and community members coming out to help.
In Manhattan we partner with Harlem Grown, who involve youth in growing food. But they also grow the kids too. We work with an organization called Dreamyard, that helps social justice and help kids think about opportunity and use art as a catalyst for that.
We work with NYC Parks to fix up some of the neglected city parks that haven't been touched in 20-30 years to make sure kids there get a wonderful place to play in.
We just launched operations in Queens this year working with the Brooklyn-Queens Landtrust that owns over 35 community gardens to make sure those are still hubs for people to connect with their fellow community members.
We also work with NYC Housing Authority at Queensbridge, NY's largest public housing development, activating spaces that haven't been utilized in 10-15 years to make sure people get out and use them to create a sense of community.
In Newark, we partner with the Boys and Girls Club in Central Ward to help the community reinvent the spaces that we share to change the perception of that area and make better things happen there.
One special partnership I've been happy to cultivate over the years is with the National Park Service. Four years ago we did a 9/11 event in Staten Island at Fort Wadsworth, we spent two days clearing out 20 tons worth of trash at Fort Tompkins which is on top of Fort Wadsworth. It's been closed to the public for 10 years because of all the trash. It was just a hazard.
In two days we removed 20 tons worth of trash and they were able to open the park to visitors. Now they have 10,000 visitors in that space each year. And in 2017 we did our first project at Ellis Island and did a good enough job to be invited back in 2018, and again this year.
Jerry Willis, public affairs officer, gave some remarks as well. He said, "I feel like the national park service and The Mission Continues are kindred spirits. We are service driven. The national park service is responsible for the lands and places that Americans have set aside as their sacred places. And we are charged with protecting and preserving them for this and future generations. And The Mission Continues takes that service to a whole other level. You have stood up and put yourself on the frontlines to defend the values of this country. We are so grateful for your service and we are especially grateful that you've decided to continue your service in your national parks."
We had 121 volunteers on site that helped complete over 480 hours of total combined service and we were able to build 3 picnic tables, put a fresh coat of paint on handrails in front of Ferry Slip, build 18 tables for an educational space, remove old IT equipment and furniture to create the educational space, weed and revitalize Fort Gibson, remove over 10 bags of weeds from the main building, mulch over 30 trees around the main building, weed and clear invasive species from the B&D building courtyard, mulch over 20 trees on the south side of the island, paint 4 public facing window sills at the New Ferry Building, and fill over 200 sandbags.
Special shout out to our sponsors and partners at Fox Sports, ESPN, and Goldman Sachs for making this day of service possible. Thanks again for joining us to help protect and preserve one of the most iconic places in the world that symbolizes freedom and hope and for working alongside veterans that continue serving our great nation.
Volunteer Reflections
"We have partnered with The Mission Continues for two years now. We love working with them because we love the military, service, and giving back to the military. Those who have given to us is part of the fabric of who we are at Fox Sports and have been for 26 years now. When we're able to work and serve alongside our veterans in a way that is impactful to the community, it's a really special opportunity for us. Specifically for this project for 9/11 in New York, you know, there's nothing better you can do than to work with veterans and be here in this beautiful place and have this work on Ellis Island, which is an enduring hope of American freedom." — Mark Toyama, Manager for Community Partnerships, Fox Sports
"I'm out here volunteering to give back to the community, to support veterans who have supported us over the many years of their service, and to make a difference within the landscape within Ellis Island and give back. I worked on building a picnic table from scratch, which was actually really fun."– Angela Tabone, National Sales Assistant, Fox
"A friend of mine was one of the corporate sponsors of the group – ESPN/Disney, and she asked if I wanted to come, and I said that would be a great idea. I have done days of service before, but I love that with The Mission Continues, it's done through 9/11 veterans. I just happen to be a little bit more reflective about this project in particular because my great grandmother died in this building when she was immigrating from Poland in 1903. So I have a family connection to this exact building (that I'm painting). She was put in quarantine and died two weeks later. It's really interesting to me that I'm at the building where she died and working on it, and saving it for the next generation." — Rich Murray, Volunteer
"I am a veteran. I've worked with Mission Continues on a prior volunteer project through Disney VoluntEARs a few years ago. and fell in love with their mission, people, the hard work they've done, and I made a lifelong friend that worked for Mission Continues during that first event that I attended. The impact is astounding for me because my firstborn son turned 19 September 6, 2000, and even though it was a year before 9/11 it still has some significance to me — so he's out here serving with me as well."– Jasmine Ross, Sales Service Associate, ABC, Disney, Advertising Sales Local
"I am a US air force veteran. I'm one of the co-chairs for the veterans ERG for ESPN in New York. I do a lot of veterans projects that we have around the city, and this one sounded really exciting, being here on Ellis Island. I was in high school when 9/11 happened and that event made me want to do something for my country and enlist. So 9/11 is a big day for me as far as wanting to be an American and contributing to my country in some way."– Jackie Velasquez, ESPN
Photos from the day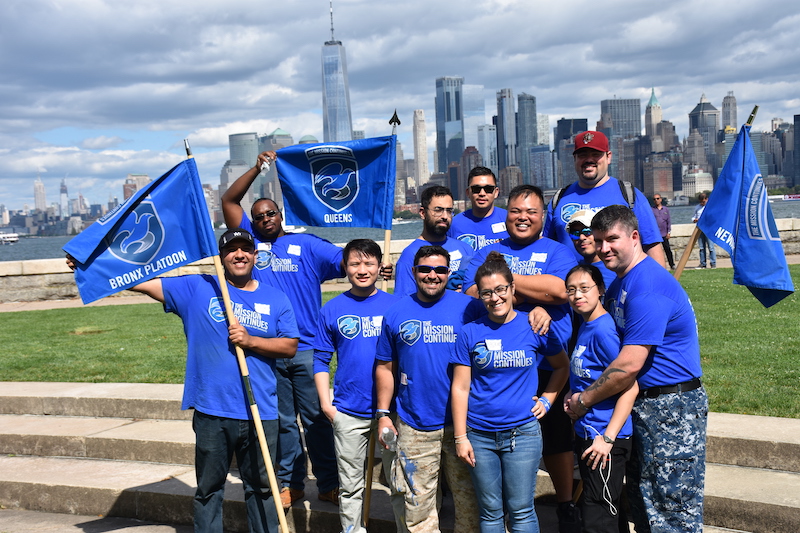 National Days of Service/Service Platoons
Sep 10, 2020