Team Mission Continues Cruises at Marine Corps Marathon
October 28, 2014
After months of training, thousands of dedicated runners laced up their shoes and took to the streets of our nation's capital on Sunday, completing the grueling 26.2 mile course of the 39th Annual Marine Corps Marathon.
For 37 of these runners. the long journey across the finish line was about more than pushing their mind and bodies as far as they could go. It was about supporting successful transitions for our country's returning troops by fundraising more than $49,821.47  for The Mission Continues.
Congratulations Team Mission Continues #missionaccomplished!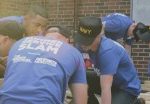 Photo Credit: Marvin Cadet
National Days of Service/Service Platoons
Sep 10, 2020