Veterans Drive Community Change and Foster New Connections for Veterans Day
PRESS RELEASE
The Mission Continues Mobilizes Veteran Volunteers for a National Multi-Week Service Campaign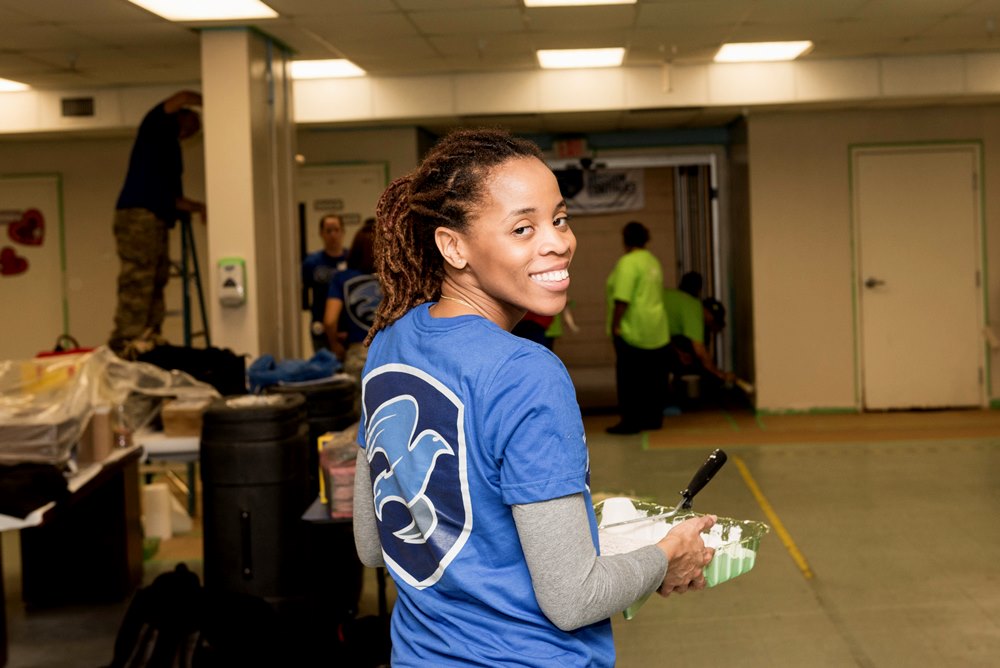 NEW YORK (PRWEB) NOVEMBER 08, 2018
This November, veterans of all eras are leading 50 communities nationwide in service for an impactful Veterans Day. The veterans are volunteers with The Mission Continues, a nonprofit organization that empowers veterans to find growth, purpose, and connection through community impact.
The multi-week Veterans Day campaign will further spread the value of service to veterans and communities with over 58 veteran-led events across the country focused on building stronger communities and connecting veterans. The community-based projects are in partnership with schools, public parks, affordable housing agencies, youth organizations, refugee centers and more. Throughout the month, veterans, community leaders, and corporate partners will team up to build, restore, and connect with each other and the communities in which they serve.
In response to a growing number of veteran volunteers, this Veterans Day also marks the expansion of The Mission Continues' Service Platoon Program to even more cities. Service platoons are teams of veteran and non-veteran volunteers that mobilize together to address a specific challenge in their community. With the launch of eight service platoons, the veteran-led impact will now reach communities in Augusta, GA; Boise ID; Columbia, SC; Killeen, TX; Tri-Cities, WA; Salt Lake City, UT; Tucson, AZ; and Waterloo, IA. The increase represents a total of 88 service platoons creating civic change nationwide.
"In honor of Veterans Day, we pay tribute to those who served and empower those who are continuing to serve as community-based leaders," said Spencer Kympton, U.S. Army veteran and president of The Mission Continues. "There are over 18 million veterans in the United States, and many of them are acting upon their desire to be of service after the military. On this national holiday, and on every other day, it is our goal to support this movement of veteran leaders as they build stronger communities and create long-term impact."
The Veterans Day service projects will be held in 50 cities including Atlanta, GA; Baltimore, MD; Pittsburgh, PA; San Francisco, CA; San Juan, PR; and Washington, D.C., to name a few. In Baltimore, veterans and community members will report for duty at the City of Refuge, an organization dedicated to supporting residents on a journey to self-sufficiency for generations to come. The veteran volunteers will lead teams in building a new clothing distribution site. They will also organize food and baby supplies and restore the "Refuge Garden," which will bring fresh fruits and vegetables—as well as learning opportunities—to South Baltimore residents.
The movement of military veterans extends beyond Veterans Day, as veteran volunteers are leading long-term local impact year-round in communities across the country. Veterans and non-veterans are encouraged to report for their duty in their community. For information on how to get involved or donate, visit http://www.missioncontinues.org.
About The Mission Continues 

The Mission Continues is a nonpartisan nonprofit organization that empowers veterans to build stronger communities through service. Our programs in cities across the country deploy veteran volunteers alongside nonprofit partners and community leaders to improve educational resources, increase access to parks and green spaces, foster neighborhood identity, and more. Through this unique model, veterans build meaningful connections and grow as individuals while creating long-term, sustainable local impact. To learn more, visit http://www.missioncontinues.org or follow us on Twitter at @missioncontinue.