"A comfort zone is a beautiful place, but nothing ever grows there."
July 5, 2018
Shannon Thompson, Platoon Leadership Team
There's this saying my father, a US Navy veteran, said to me as a child: "A comfort zone is a beautiful place, but nothing ever grows there." I live by this saying. It's what motivated me to enlist in the military at the age of 17 to earn a college education, and it's what inspired me to see what else I was capable of after completing 12 years as an airman.
It's what inspired me to serve again with The Mission Continues.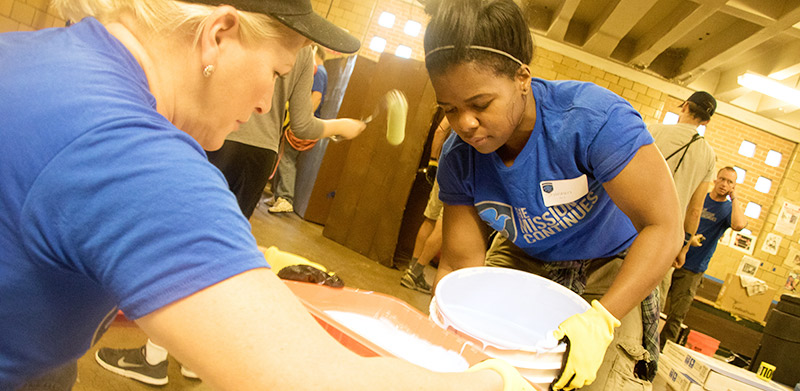 My transition into civilian life catapulted me into a world that didn't understand my military career. My new civilian job didn't challenge me at all, and I didn't have anything outside of my routine. It all felt so mundane.
I knew something was missing. I knew I could do more, be more, and offer more to others. I needed to get out of my comfort zone again and grow; The Mission Continues and volunteering gave me the opportunity to do just that.
My husband, also an Air Force veteran, became leader of The Mission Continues' St. Louis 2nd Service Platoon. As part of his leadership team, I knew what needed to be done and took on new roles, just like the military taught me to do. The platoon allowed me to grow after military service.
Around the same time my husband and I joined the service platoon, we received primary guardianship of my 16-year-old nephew. He moved in with us because his neighborhood lacked viable educational opportunities. He wasn't used to having homework, school books, good grades, or adults pushing him out of his comfort zone.
The first thing we did was bring our nephew to a Mission Continues service project. Working alongside motivated, service-minded veterans has been phenomenal — he sees the impact of his effort, and his life has turned around. He's at every service project; and we bring his sister and my father too. My whole family has grown closer, and it's because service has become a vital part of our family.
Beyond the service platoons, I've gotten more involved with The Mission Continues programs and connected with other veterans — I've attended Mass Deployment, Women Veterans Leadership Summit, completed the Fellowship Program, and continue to serve at every opportunity.
I've seen my fellow veterans push out of their comfort zone — veterans who are still navigating the challenges of disability, isolation, Post-Traumatic Stress and Traumatic Brain Injury.
I've also seen the impact on the communities we serve. One of the most memorable moments came when we were serving at a school. A young girl from that school joined us, but she was struggling with the tasks — clearly out of her comfort zone. But by the end of the project, when I asked her what she'd learned, her reply surprised me. "I learned how not to give up," she said.
It's moments like these that prove to me the truth behind my father's favorite saying. With your donation today, more veterans like me can get out of their comfort zone, and together, we can make an even bigger impact in under-resourced communities across the country — modeling and inspiring the next generation to get out of their comfort zone too, and make a positive difference.
Yours In Service,
Shannon Thompson
St. Louis 2nd Platoon Leadership Team