Answering the Call to Combat Pandemic Food Insecurity
By Sean Tyler, The Mission Continues
I know how I feel when I miss a meal–I get grumpy, irritable, and I can't think or work well. But, I can easily fix this by walking to my refrigerator. Unfortunately, not everyone can say that. The onset of the pandemic and my volunteering involvement has opened my eyes to the harsh reality and the disquieting prevalence of food insecurity. Knowing that I am lucky to never have experienced food insecurity makes me want to help people who do not have the same opportunities or privileges as I do.
At the end of the day, I want to be able to look at myself in the mirror and know that I helped provide hope, in the form of a meal, for my fellow citizens. I can do that by volunteering through The Mission Continues, a nonprofit that believes in the civic leadership potential of military veterans like myself. Their Operation Nourish initiative harnesses their fleet of city-based volunteer groups, called service platoons, to address the onslaught of food insecurity during the COVID-19 pandemic. 
As veterans, we have always responded to the call–whether it be in a foreign land or here on our nation's soil–and this is a call we also must respond to. As a social worker and a veteran, I am personally drawn to helping others–it was one of the main reasons I stayed in the Army after my first enlistment, transitioning from an infantryman to a medical service corps officer, and it's why I became a social worker–it gives my life a sense of purpose and meaning to know that I've lightened the load of my fellow man. 
The year 2020, in particular, was a year in which the load of a large chunk of our communities have been stressed, strained, and even broken–and the outlook for 2021 seems equally trying. Despite all of this turmoil, there are a lot of people taking a stand at the grassroots level. My platoon's efforts to support Operation Nourish in Pittsburgh have ranged from cleaning up community gardens to conducting community feeding events, one of which prepared and distributed over 500 meals in the Hazelwood community. None of these efforts completely solves food insecurity, but they do provide options and hope for the community members who have been the most hard-hit by the pandemic. 
I didn't start volunteering with The Mission Continues for the thanks or accolades, but when I see people who have been genuinely moved and helped by what we do, it drives me to continue putting my best foot forward to continue bringing smiles to the faces of Pittsburgh.
The hope imparted by these volunteer efforts are especially important during this winter season as we face unprecedented strife in our country. If you are lucky enough to know where your next meal is coming from, I ask you to take a moment and imagine that you don't. Imagine that the most basic needs in your life–feeding yourself and your family–is a problem you just can't solve. Now just imagine the other challenges in your life that you won't be able to take on because you haven't been able to eat. Now imagine that you depend on the kindness of strangers and organizations like The Mission Continues to help you bridge the gap from meal to meal, but they can only provide their services if they have the volunteers.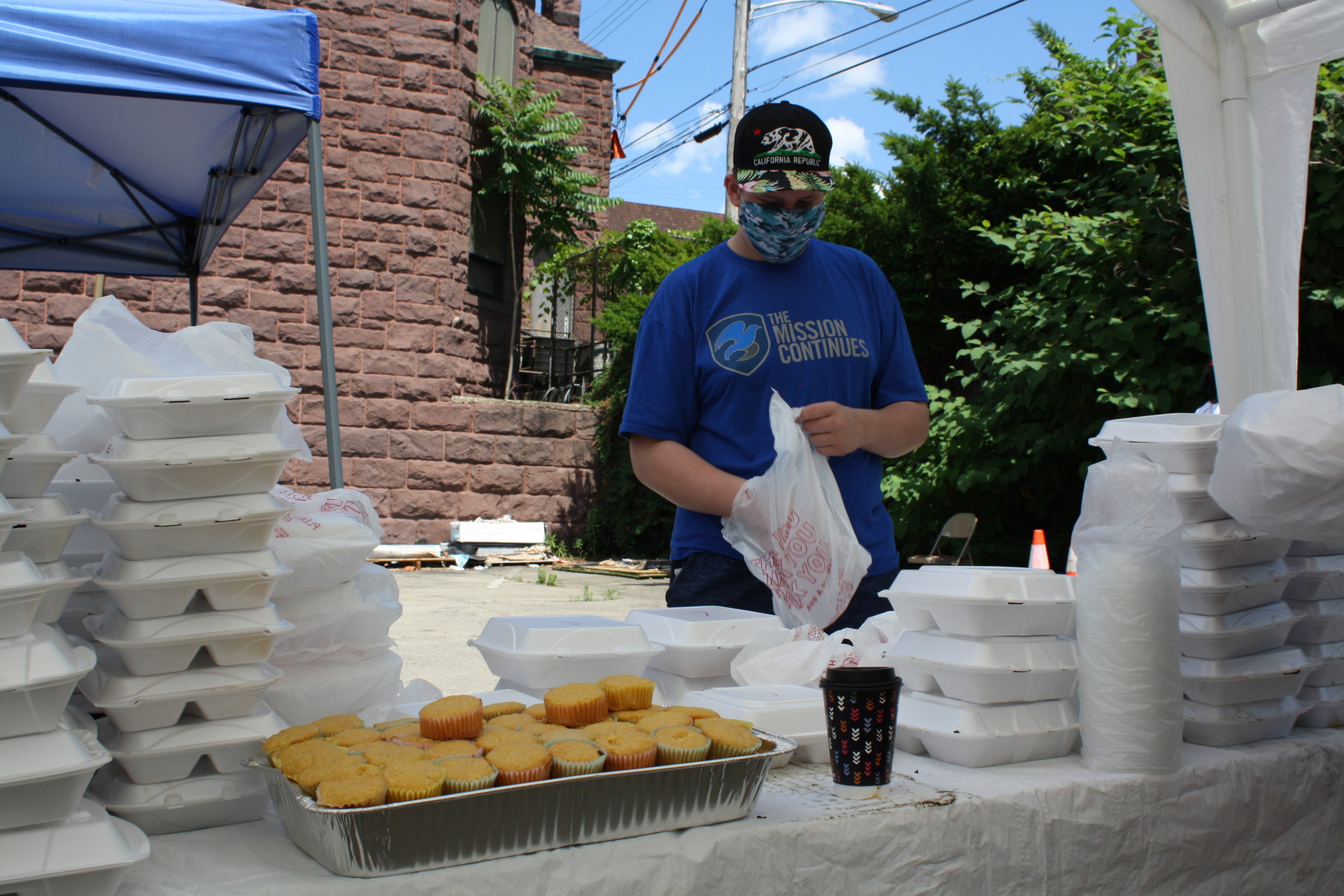 Finally, ask yourself, "Do I want to be the reason why someone was able to eat?" If you answered "Yes" to that question then you're a great fit to help us put a dent in food insecurity. You have the ability to provide hope in the form of a meal to your community members this winter, and we can't do it without you!
Please join us for a socially distanced Operation Nourish event in your area. We welcome everyone to serve with us!
Sean Tyler is a US Army veteran, social worker and volunteer platoon leader for The Mission Continues' Pittsburgh Service Platoon. The Mission Continues is a national nonprofit that mobilizes veterans in community service and in the fight against food insecurity. With platoons in 50+ cities across the country, find an event near you.