"I Always Dreamed of Being a Hero and Catching Bad Guys"
February 27, 2015
Jonas Jones was thinking about service and justice even as a little kid. "I dreamed of being a hero and catching bad guys," he says.
Jonas was born and raised in Hazelwood, Missouri just north of St. Louis. He was taught at a young age "to take care of the people who take care of you," as he puts it. At 29 years old, this particular life lesson brought him to the office of a U.S. Army recruiter.
"I joined the military because I wanted to create a better life for me and my family. I wanted the best in life. The Army gave me the opportunity to fight with the best, and be the best man I could be – someone who reflected respect and good character."
Jonas served nearly four years as an Army infantryman. In 2010, his unit deployed to Afghanistan. Jonas served on the front lines as a gunner in his unit's weapons squad. He led soldiers in combat, and in operations to capture prisoners of war.
His childhood dream of "catching the bad guys" became a reality.
During the same deployment, while returning from a mission, Jonas's truck was struck by an IED. The truck commander and an Afghanistan local who had accompanied Jonas's troop on their mission were thrown from the vehicle, and Jonas, along with three other soldiers, were stuck inside.
"That blast was so intense, I blacked out," he says. "When I came to I felt extreme pain running throughout my whole body and a sergeant screaming asking if we were all okay inside the truck."
Jonas sustained a traumatic brain injury and deep lacerations from the explosion, earning him a Purple Heart. A few weeks later, his deployment ended and Jonas returned home. Initially, he began training for his next deployment but later decided it was time to hang up his uniform.
Jonas needed to decide what to do next. He had a passion for law enforcement and serving his community, so he decided to pursue an education in criminology and psychology. Meanwhile, his wife introduced to The Mission Continues Fellowship Program.
In September 2014, Jonas was awarded a six-month Mission Continues Fellowship at the St. Louis County Police Department. As a Fellow, he serves alongside Sgt. Jeremy Romo, who leads the department's Crisis Intervention Team Program. The program connects individuals who are struggling with mental health disorders to the right resources, which helped steer them away from the correctional system.
"Most of our work is done with the community. We work with the elderly who are battling Alzheimer's, the homeless, veterans who struggle with post-traumatic stress or substance abuse issues, and youth who are fighting mental health issues," says Sgt. Romo.  "We connect these individuals to resources that keep them out of jail or the justice system, because they don't belong there."
Jonas is about one month away from completing his fellowship. During the last several months, he devoted 20 hours a week to enhancing the Crisis Intervention Team Program. From attending community meetings, to engaging in productive conversations with city officials, and educating more than 55 Police Officers on veterans' mental health issues, Jonas has served as a tremendous asset for the St. Louis County Police Department.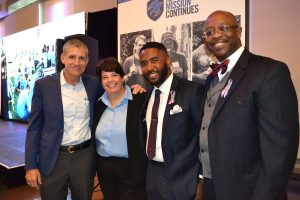 "Jonas has incredible work ethic. He's punctual, respectful and one of those guys you can tell is truly enjoying himself every day – he is just so service oriented" says Sgt. Romo.
Recognizing that Jonas repeatedly went above and beyond the call of duty, Sgt. Romo nominated him for the department's Citizen Service Citation award, which recognizes a citizen who plays a crucial role in empowering the police department to give back to the community.
"Similarly to military soldiers, police officers are often told to separate their emotions from work and 'toughen up.' Well, Jonas was here while the events in Ferguson took place, which put a tremendous strain on police officers and the St. Louis community as a whole," says Sgt. Romo. "He would share stories of his military experience, which really helped build morale and provide support for the officers. He also grew up in North County, near Ferguson, and was able to offer a unique perspective on the community."
Sgt. Romo and the St. Louis County Board of Police Commissions presented Jonas with the Citizen Service Citation on February 11.
"I was truly pleased, honored, and humbled to receive the Citizen Service Citation award from Sgt. Jermey Romo," says Jonas. "He has also been a great mentor to me. The St. Louis County Police Department treated me like family and instilled in me the passion to continue to always fight the good fight, especially for those who cannot do it for themselves."
Jonas recently graduated with a bachelor's degree in criminology and psychology, and is currently enrolled in graduate school. He plans to pursue a career in law enforcement, and get back to "catching bad guys" combatting crime in the cyber security sector.
"None of this would've been possible if it wasn't for The Mission Continues and Moses Maddox who is another great mentor of mine and works with The Mission Continues," says Jonas. "My fellowship gave me the encouragement and the blueprint to be successful in any endeavor."