All About Our 2018 Summer Service Slam
July 11, 2018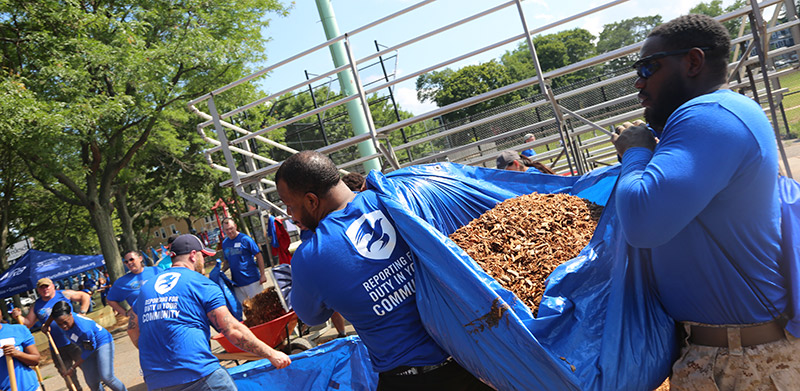 This summer 250 veterans from across the country are putting an end to #summerdaze and reporting for duty with The Mission Continues to kick-off our first ever Summer Service Slam!
We're hosting eight events in all five regions coast to coast. This July, for three consecutive weekends veterans will deploy to cities within their regions for a weekend of impact, personal growth and camaraderie. Our goal for these veterans is to leave the weekend with new skills, motivation and an expanded network of civic leaders to continue their mission of service at home.
Summer Service Slam Calendar of Events
Slam up your summer and Report for Duty with The Mission Continues. Do something that counts with people you won't forget to make a real difference for summers to come!
July 13-15, Operation Seeds of Hope
Cleveland 1st Platoon will work to empower at-risk youth in Cleveland to reach their potential as citizens by improving accessibility to youth-focused programs and opportunities. The primary focus will be the Broadway Slavic Village Club where we will build and strengthen the Horticulture Program through the enhancement of the children's garden and improvements to the vegetable garden, as well as improving the overall safety and security of their outdoor spaces to help prevent damage and theft.
July 13-15, El Paso 1st Platoon Launch
The "Sun City" is home to Fort Bliss, the second largest U.S. Army installation, and home to over 30,000 veterans. In El Paso, 30% of the population lives in food deserts and the food shortage has ignited nonprofits and veterans to find innovative methods of growing fresh produce in their desert climate. During this year's Summer Service Slam,
we will focus our efforts on Bowie High School in the Chamizal community and support the City of El Paso and its nonprofits who are paving the way to help residents.
Want to join us? Check out details and register here.
July 20-22, Operation Kansas City Climb
Kansas City 1st Platoon's activities will support Banneker Elementary by creating a more vibrant learning community with new instruction opportunities (e.g. outdoor classrooms, reading lofts) to support one of the schools driving priorities, converting classroom lessons to classroom experiences, while also supporting priorities around academic achievement and parent participation.
July 20-22, BEast Coast Collaboration
Over 100 veterans from 10+ east coast cities will travel to Baltimore for a weekend of professional development and community impact, totaling over 400 hours of collective service. In partnership with the Greater Baybrook Alliance, this unprecedented event will strengthen the city's quality of life and fuel a year of service that will culminate in our Mass Deployment event in summer 2019. We are excited that Baltimore will once again serve as a hub of connection and ingenuity, and we're starting with a weekend that will inspire for years to come.
Want to join us for the inaugural project for our new Operation in Baltimore? Check out details and register here.
July 27-29 Operation #FixOurParks
United States veterans have been stewards of our nation's parks since before the National Parks Service was established in 1916. Veterans created many of the roads, trails and other infrastructure located in the parks. This summer the West Region is continuing that history of stewardship by activating in 4 national parks. In Mt. Rainier NP, Sequoia/Kings Canyon NP, and Grand Canyon NP, we will be conducting a variety of tasks including trail maintenance and invasive plant removal, while camping overnight in some of America's most beautiful terrain.
Service Opportunities
"No one ever made a difference by being like everyone else." – P.T. Barnum
If you're wondering how can you report for duty in your community, please know that every act of service and kindness counts. Sharing our mission. Donating. Providing project supplies to help build safe spaces for parents to take their children. Coast to coast and block by block, from Watts, CA to Baltimore, MD, The Mission Continues is there, impacting one community at a time.
We can't continue this mission without you. Whether you give, volunteer or share our mission on your social networks, your service has the potential to save someone's life.
Fundraise:
Make a one-time gift
Sponsor a Summer Service Slam Project
Become a monthly donor
Workplace giving and matching gifts
Donate a meal to fuel our volunteers
Raise Awareness:
Talk about our mission and events with your family and friends
Use your social networks to help promote our events and programs
Share our latest news and events in your newsletter
Invite friends and family to one of our local service projects
To learn about all the ways you can serve and support please contact Meredith Darche at mdarche@missioncontinues.org