Event Overview
The space where Convent Garden currently resides was once an abandoned gas station turned empty lot for many years. On November 22, 1985, the lot was transferred to the Parks Department for development as a landscaped sitting area. Ms Davis, the current operator of the Garden, has over decades of hard work, transformed the Garden into a beacon of community gatherings and beauty in the area. Making it one of the best community Gardens in Harlem! The walk way in the Garden has seen a lot of wear over the years because of the frequent traffic of young kids and disabled elderly. The conditions of the walk way have made it a hazard to both. We are installing new safer Pavers after removing the old worn ones.This will keep the Garden accessible for the many children and elderly who frequent it! This will be the second phase of a 2 part project. We will be installing the pavers we removed on the13th. This is a opportunity to help maintain one of the best kept secrets in Harlem. We hope to see you there!
What To Wear
Clothes you don't mind getting dirty!
Event Contact: Daniel Perez
dperez@missioncontinues.org
(716) 397-3979
Impact Stories from the Field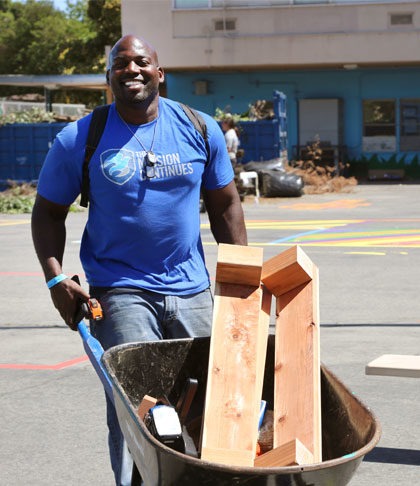 Support our Work in Communities Across the Country
Your donation goes a long way into ensuring that veterans are able to connect with others and make an impact in their home communities.