Event Overview
Come join us to celebrate the legacy of Martin Luther King Jr. by practicing what he preached and help connect the people of Harlem with the building of a Community Space and Garden on 134th Street. The 134th Street Block Association has been using an empty lot to gather for neighborhood events and gathers. The Mission Continues has been working hard with the 134th Street Block Association to make the lot a space that the neighborhood can be proud of and a center for activity for the community. On this Dr. Martin Luther King Day we are going to continue to make this dream a reality by continuing the plan to revitalize the lot into a Community Space and Garden with the construction of a performance stage, garden beds and a shaded pergola for the summer. Please join us in building our communities one brick ( or garden bed) at a time! Charlie Mike!
What To Wear
Warm cloths and proper PPE for COVID. We will have masks available if you do not have one.
What to Bring
Your can do additude and the spirit of Dr King!
Parking
Take the 1 train to 137 street and walk down Broadway until you get to 134 street. can't miss it.
Inclement Weather
In the event of bad weather the event will be postponed.
New York 1st Service Platoon
Event Contact: Daniel Perez
dperez@missioncontinues.org
(716) 397-3979
Impact Stories from the Field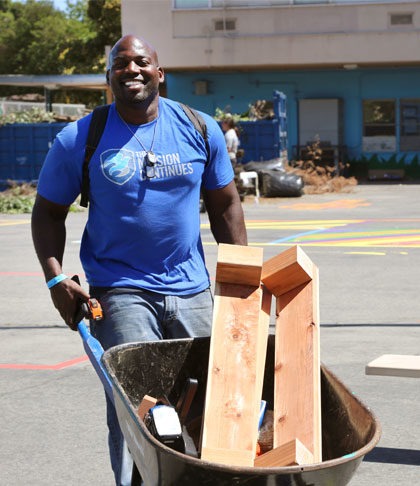 Support our Work in Communities Across the Country
Your donation goes a long way into ensuring that veterans are able to connect with others and make an impact in their home communities.