Event Overview
A wood trail, a diversity of trees, animals, and a breeze of fresh air is the perfect combination for a day in the outdoors and what you'll find at the Bosque Estatal de Piñones. In this state forest, you'll find the most extensive natural system of mangroves in all of Puerto Rico. Furthermore, while enjoying the trail, you'll also find reefs, sea-grass meadows, salt flats, islets, and dunes. This natural wonderland is home to animals like crabs, sea turtles like the leather backs, and birds. In addition to its beauty, the DRNA park was one of the original military watch post, identifying enemies from a far. Since Hurricane Maria, the DRNA park of Bosque Estatal de Piñones, has been in need of support and restoration. We will be painting tables and chairs, constructing a wooden canopy and restoring a BBQ area for families and groups alike to enjoy in this natural area.
What To Wear
Comfortable clothes Blue TMC Shirt Face Mask is Mandatory
What to Bring
Face Mask Hand Sanitizer Hat
Parking
In front of the property there is a parking space in concrete
Inclement Weather
It may rain, will have to wait to future date to ensure weather for the activity
Puerto Rico Platoon
Event Contact: Elizabeth Martinez Gonzalez
emartinez@missioncontinues.org
(787) 549-1255
Impact Stories from the Field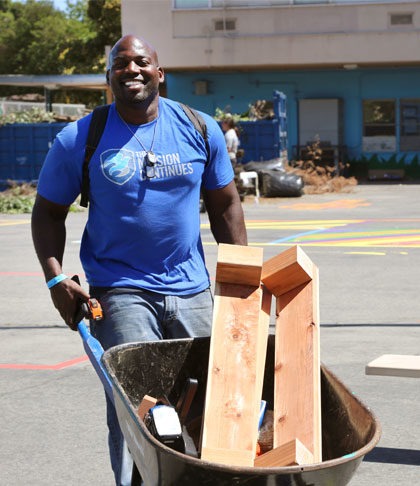 Support our Work in Communities Across the Country
Your donation goes a long way into ensuring that veterans are able to connect with others and make an impact in their home communities.