Event Overview
In 2005 the University of Puerto Rico conducted a survey that shows that Plantains are one of the most important products in the fresh produce section. Processed plantain is the most important among frozen products. Distributors buy plantain products from Ecuador and Costa Rica but we currently have a great deal of local farmers in Puerto Rico that produce them locally. During the COVID-19 pandemic they have been set aside and the government has bought them at a cheaper price from outside the island, that has made it such more difficult to sell locally. As a result of Tropical Storm Isaias, local farmers had approximately the same loss of their crops ranging from 0,000 to 0 million dollars, which was the same as during Hurricane Irma and Maria. After almost three years of patiently working their farms, again local farmers are experiencing great loss again. TMC Puerto Rico is partnering up with Finca Sangre Verde in Camuy, where Farmer Vanessa Pineiro is one of the small amount of women in the industry to grow plantain, pomarosa & vanilla. We will assist and support her efforts to recover the land post Tropical Storm Isaias and plant over 100 new plantain seeds. Additionally, we will paint an old school bus where she will be providing classes to children and youth to prepare the next generation of Young Farmers; teaching the importance of sustainable living and agriculture in Puerto Rico. Last, we will install a water tank, build a wooden office, and help prepare a compost area, all to support Finca Sangre Verde operations. Come join us on August 29th and have a blast supporting and learning about plantains, vanilla, pomarosas, and the future of Young Farmers in Puerto Rico.
What to Bring
Clothes that can get dirty, Mask is mandatory at all times and hand sanitizer
Parking
at Finca Sangre Verde will send location on later email
Puerto Rico Platoon
Event Contact: Elizabeth Martinez Gonzalez
emartinez@missioncontinues.org
(787) 549-1255
Impact Stories from the Field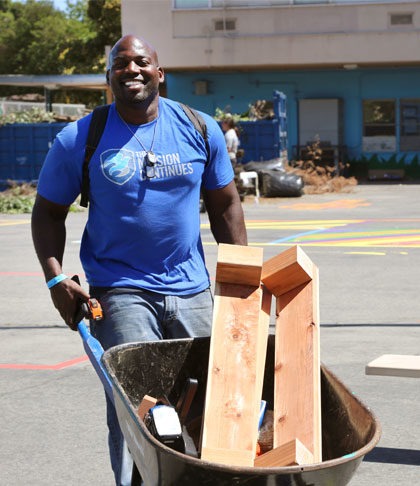 Support our Work in Communities Across the Country
Your donation goes a long way into ensuring that veterans are able to connect with others and make an impact in their home communities.