Event Overview
COVID-19 has exacerbated food insecurity all across the country. The Mission Continues is working to bring the ingenuity and creativity the veteran community brings to increasing access to food in under-resourced communities. One way that we are addressing this issue is through Operation Nourish: Green Thumb OC. We are asking our volunteers to foster seeds at home that will then be donated to families in our communities so that they can create gardens in their homes. When you register, you will be mailed all of the supplies that you will need to start fostering these plants. We will have weekly Zoom calls to discuss the progress of the plants and help with any questions you may have. Once you have replanted the seedlings into larger pots, you will be able to get more supplies to reuse the greenhouses and keep growing new plants. We are partnering with several organizations in Orange County to provide the plants to families that are being taught to grow food at home. You will have the opportunity to hand out your plants in person or drop them off to be handed out. Learn more about #OperationNourish and how you can support: missioncontinues.org/nourish
What To Wear
Your TMC blue t-shirt and comfortable clothes for gardening that you don't mind possibly getting dirty.
What to Bring
The gardening supplies we mail to you and a willingness to learn and grow.
Orange County Platoon
Event Contact: Bob White
rwhite@missioncontinues.org
(714) 262-2141
Impact Stories from the Field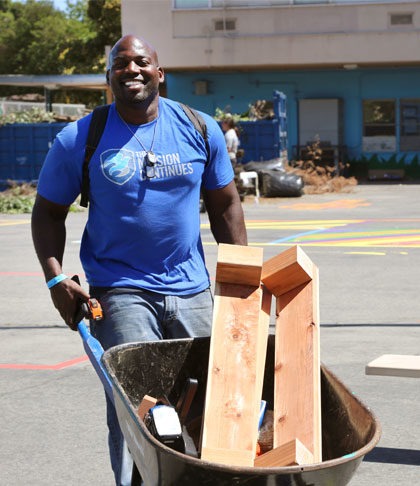 Support our Work in Communities Across the Country
Your donation goes a long way into ensuring that veterans are able to connect with others and make an impact in their home communities.