Event Overview
Join DC 3rd Plt with our Non-Perishable Food Drive. We are asking volunteers to collected Non-Perishable foods that you will donate during the event. Ask you friends to join you, email a buddy, start your own collection in your community. Then donate the food at the locations and dates listed. Food will be given to the following facilities: Carpenter's Shelter supports the homeless to achieve sustainable independence through shelter, guidance, education, and advocacy. The Carpenter's Shelter serves the homeless population of Alexandria, single men, women, and families. The Douglass Community Center, located in the Douglass Community, this community center is one of the oldest in Ward 8. They use the food to feed the local seniors citizens. Members from DC 3rd Plt will collect the donations at the following locations and times in the parking lot. Please identify where you are dropping off upon registration. Home Depot Alexandria on 14 July at 7 PM – 8 PM (7710 Richmond Hwy, Alexandria, VA 22306) Home Depot Fairfax 15 July at 7 PM – 8 PM ( 2815 Merrilee Dr, Fairfax, VA 22031 Home Depot Woodbridge 16 July at 7 PM – 8 PM (14025 Foulger Square, Woodbridge, VA 22192) Home Depot MD 17 July 6 PM – 7 PM (6003 Oxon Hill Rd, Oxon Hill, MD 20745) Home Depot MD 17 July 7:30 PM – 8:30 PM (150 Hampton Park Blvd, Capitol Heights, MD 20743) Lets fill their shelves with food and TMC Blue Pride.
What to Bring
Non-Perishables to donate
Inclement Weather
Food will be pick-up at locations rain or shine
Event Contact: David DuBois
ddubois@missioncontinues.org
(703) 408-6447
Impact Stories from the Field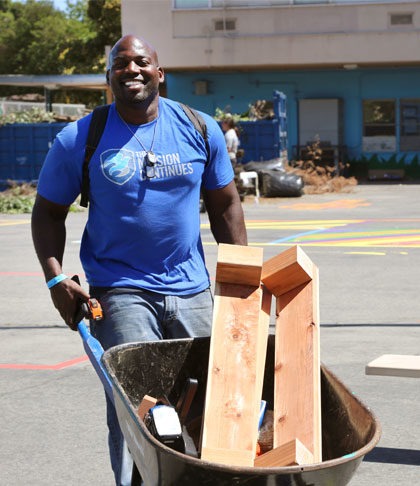 Support our Work in Communities Across the Country
Your donation goes a long way into ensuring that veterans are able to connect with others and make an impact in their home communities.