Event Overview
We will get back to our roots conducting a service project at the Fredrick Douglas Community Center. Located in the Douglass Community, this community center is one of the oldest in Ward 8. The Douglass Community Center has amazing outdoor amenities that include a popular playground supporting a large community in the surrounding area. Projects 1. Paint and build shelves in pantry. This will be used to distribute food items to the community. 2. Paint and build shelves in storage room. Used to store items for the community service items. 3. Food Drive: We are asking our volunteers to bring non-perishables to the project you start collecting now. If you cannot attend the project or need assistance with pick up please contact the DC 3rd Plt Ldr. David DuBois. We will ensure we follow proper protocols for protection at the site for all. Nearest Metro: Congress Heights Metro Station (Green/Yellow)
What To Wear
Appropriate clothing and closed toed shoes. Blue TMC shirt or pick one up here.
What to Bring
Personal COVID protection (Mask and other personal items) We will have sanitizer and gloves on site.
Event Contact: David DuBois
ddubois@missioncontinues.org
(703) 408-6447
Impact Stories from the Field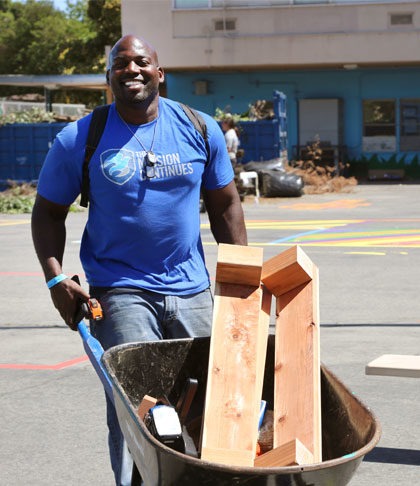 Support our Work in Communities Across the Country
Your donation goes a long way into ensuring that veterans are able to connect with others and make an impact in their home communities.