Event Overview
The Mission Continues stands in solidarity with the transgender community as its members struggle for recognition as equal citizens. The Mission Continues was founded with five core values, of which "respect" remains the standard for all who serve with us. In our words and deeds, the value explicitly exclaims: We believe everyone deserves to be treated with dignity and that they can make a difference. Join Detroit Platoons for as event volunteers serving with AFFIRMATIONS for Ferndale Pride. Affirmations provides a welcoming space where people of all sexual orientations, gender identities & expressions, and cultures can find support and unconditional acceptance, and where they can learn, grow, socialize and feel safe. After volunteering, the platoon will transition from serving to socializing! Volunteers will each be provided our exclusive TMC #PrideandHonor t-shirt!
What To Wear
Dress in whatever way feels comfortable and festive. #PRIDEANDHONOR t-shirt will be provided to pre-registered TMC volunteers.
Parking
Ample public parking is available throughout Ferndale, but please be aware of road closures and resident permit parking. We recommend downloading the Park Ferndale mobile app.
Inclement Weather
Please monitor e-mail for updates in event of extreme weather.
Detroit Platoon
Event Contact: Heather Byington
hbyington@missioncontinues.org
(253) 722-6505
Impact Stories from the Field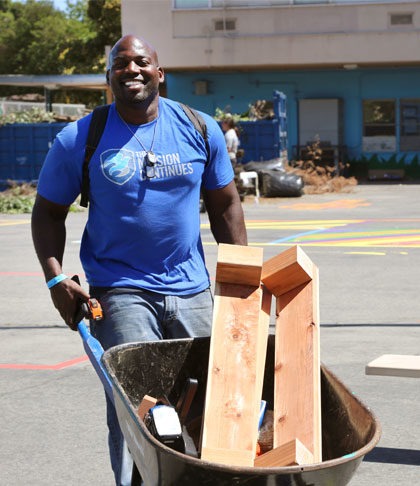 Support our Work in Communities Across the Country
Your donation goes a long way into ensuring that veterans are able to connect with others and make an impact in their home communities.