Event Overview
On March 30th,The Mission Continues New York City Platoons are deploying once again to the Bronx to help revitalize the Bronx. In honor of Women's History Month, women-veterans from across New York City will be stepping up to lead the revitalization of the Bronx Sunshine Garden. The Bronx Sunshine Garden is a community hub that not only helps grow and distribute fruits and vegetables to the neighborhood but they also host domino tournaments and other community events. Led by former Marine Corps officer, Mercedes Elias, during this day of service military veterans and community members will be working together to build and paint a brand new picnic table, build two brand new raised garden beds, paint and re-soil sixteen garden beds, demolish an old picnic table and 2 old garden beds, and if there's enough time, paint a brand new mural and build 3 new benches. We hope everyone in New York City gets to witness the strength and leadership of women veterans living in NYC and the power of what can happen when women step up to lead in their community. We need as many people as possible to provide their time and effort to make this an impactful day for the caretakers of the Bronx Sunshine Garden so bring anyone and everyone you know. We hope to see you there!
What To Wear
Clothes you don't mind getting dirty
What to Bring
A friend, family member, and anyone else you know.
Parking
There's plenty of parking in the parking lot next to the garden.
New York 2nd Service Platoon
Event Contact: Vu Nguyen
vnguyen@missioncontinues.org
(917) 414-2530
Impact Stories from the Field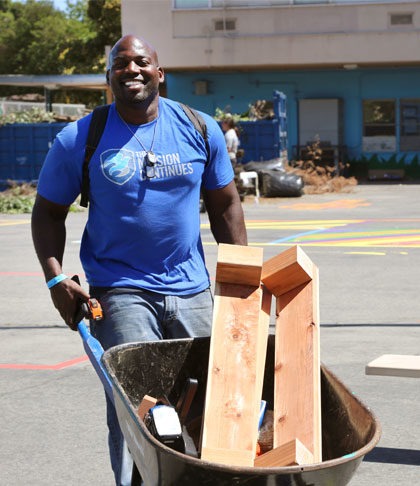 Support our Work in Communities Across the Country
Your donation goes a long way into ensuring that veterans are able to connect with others and make an impact in their home communities.