Event Overview
The Mission Continues is teaming up with Team RWB, Team Rubicon, Wounded Warrior Project, (and more!) for Run As One in Detroit this year. The past couple of years have been held in Ann Arbor, but this year we are bringing it back and will be hosting a run/walk/ruck/bike/crawl/as-you-are event on the beautiful Belle Isle to highlight veteran wellness and support for those combating mental illness and isolation. Please register here and also at https://donate.teamrwb.org/team/210173. T-shirts can be purchased on the donation page. Run As One is a unique engagement opportunity where members of Team Red, White & Blue, Team Rubicon, and The Mission Continues, along with members of their community and veteran supporters come together for a day of solidarity to showcase how exercise, community, and inclusivity combine to combat mental health challenges. Run As One began in 2012, and continues to showcase the power of unity and physical fitness with remembrance of Clay Hunt, an original member of Team Rubicon, who took his own life after battling PTSD and depression. When Clay passed, we realized we needed to forge a stronger community – both with veterans and civilians. Run As One establishes and renews bonds with our brothers and sisters through physical activity. We know that when we come together and take on a new challenge, we build stronger bonds. Together, with our partner organizations and communities, we will demonstrate the power of relationships and physical activity in facing mental health challenges. So run! Run fast. Run slow. Run as a team. Use today to connect with all of your veteran brothers and sisters while establishing meaningful connections within the community. Appreciate and live the greater meaning of today. We know shared purpose and hard work towards a common goal builds healthier veterans and stronger communities, so run together, Run As One! If I had one thing to say to my fellow veterans, it would be this: continue to serve, even though we have taken off our uniforms. - Clay Hunt, USMC #RunAsOne ***Proceeds from this event are distributed between the three host organizations.*** Team Red, White & Blue enriches the lives of America's veterans by connecting them to their community through physical and social activity. For more information visit TeamRWB.org Team Rubicon unites the skills and experiences of military veterans with first responders to rapidly deploy emergency response teams. For more information visit TeamRubiconUSA.org The Mission Continues empowers veterans who are adjusting to life at home to find purpose through community impact. We deploy veterans on new missions in their communities, so that their actions will inspire future generations to serve. For more information visit MissionContinues.org
What To Wear
Comfortable shoes and layered clothing.
What to Bring
Veteran and civilian friends and families!
Parking
Parking is available adjacent to the event location, near the Scott Memorial Fountain, on the far southwest tip of the island. When entering Belle Isle Park from the bridge, keep to the right until you see the fountain on your left. Parking will be available in the parking paddock near the fountain. Please note that entry to Belle Isle requires a recreation passport, which can be purchased for at the time of arrival if you do not yet have one. This will give you access for the year!
Inclement Weather
Monitor your email for updates in the event of severe weather.
Detroit Platoon
Event Contact: Emily Ferstle
ferstemi@aquinas.edu
(248) 342-4625
Impact Stories from the Field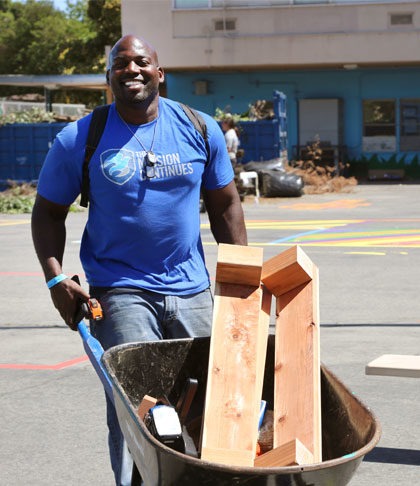 Support our Work in Communities Across the Country
Your donation goes a long way into ensuring that veterans are able to connect with others and make an impact in their home communities.