Event Overview
This is a SPECIAL EVENT created in partnership with The Mission Continues, Travis Manion Foundation, and Wounded Warrior Project. We are being hosted by Two Top Adaptive Adventures at White Tail Ski Resorts. This is a great time for comraderay, fun and adventure. Learn to ski or snowboard with certified instructors experienced with people having disabilities. This is a family open event, be sure that every individual is registered we don't want to miss anyone. Really small children may not be able to participate given the number of instructors. Meals, Lodging, Equipment and lift tickets will be provided. We want you to enjoy your time, mingle, make new friends, and conquer the mountain. Two Top has been doing amazing things with veterans with disabilities for years. Lets show our support and appreciation for all that they do. Bring your smiles, determination and Can Do attitude for a wonderful three days of bonding. THIS IS A 3 DAY EVENT!!! Feb 12, 13, 14, 2019 YOU ARE NOT REQUIRED TO ATTEND ALL 3 DAYS. In your registration just advise what day(s) you will attend. If you are attending multiple days LODGING WILL BE PROVIDED. you must contact coordinator within 10 days of attending.
What To Wear
Cold Weather gear is a must.
What to Bring
Undergarments, hats, gloves, coats, and boots. We need your positive energy and big smiles.
Inclement Weather
We are going even if its snowing!
Washington, DC Platoon
Event Contact: Pierre Larkin
plarkin@missioncontinues.org
(703) 598-3695
Impact Stories from the Field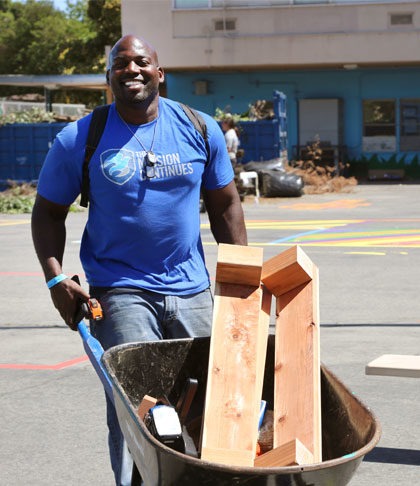 Support our Work in Communities Across the Country
Your donation goes a long way into ensuring that veterans are able to connect with others and make an impact in their home communities.