Event Overview
Hello everyone, I am excited to say, this is our return to Summer Ridge! This service project will incorporate us doing beautification to the Community Center located on the Summer Ridge Property. This includes water mitigation outside the entrance doors, interior painting, floor stripping/buffing and polishing. We will be actively working with the residence to include the children. The water mitigation may require working in dirt and moving minor water barricades. The afternoon will be kicked off with an instruction in the sport of Pickle Ball. After the introduction there will be a selection of teams and then a competition to select a winner for Summer
What To Wear
Dress for painting, clothing that you may not mind getting stained (hat, eye protection and gloves). You also may want to have clothing for afternoon activities so that you can actively participate in Pickle Ball.
What to Bring
Bring a positive attitude, smiles and the TMC energy!!!
Parking
Plenty of open parking near the community center. There is generally open parking in front of the basketball courts next to the community center.
Inclement Weather
Event will be both inside and out. Liquid sunshine will not stop the LOVE!
Washington, DC Platoon
Event Contact: Pierre Larkin
plarkin@missioncontinues.org
(703) 598-3695
Impact Stories from the Field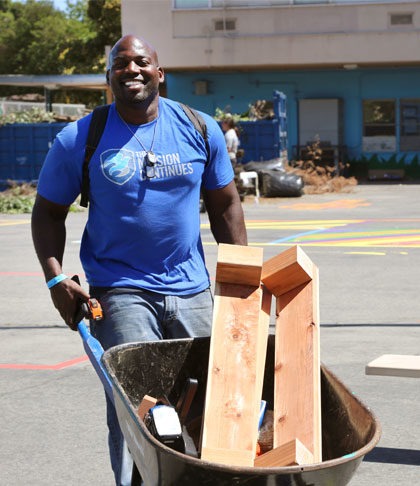 Support our Work in Communities Across the Country
Your donation goes a long way into ensuring that veterans are able to connect with others and make an impact in their home communities.