Event Overview
On July 21st, The Mission Continues Brooklyn Platoon is heading out to Brownsville Brooklyn once again for an impactful day of service. We have been consistently deploying our volunteers to Brownsville to build a stronger more connected community there as Brownsville residents intend to change the negative narrative around the community as being "the worst neighborhood for children" into "Brownsville, a Community of Resilience." Last time, we successfully painted 2 full basketball courts even though we ran out of the purple paint initially and change the color of the lines at the last minute. The youth council of Brooklyn Public Library, which is right next to Howard Playground, actually came up with the idea of painting purple color for their basketball courts! This time, we are going to finish up rebuilding Howard Playground for children that visit the library by making the purple basketball courts better with some amazing stars that the youth council of Brooklyn Public Library has requested. There are also 3 other half courts that need some refurbishment. Hope to see you there!
What To Wear
Clothes you don't mind getting dirty Make sure you put on some sunscreen
What to Bring
A friend and a positive attitude
Parking Information
There's plenty of street parking
Operation Brownsville
Event Contact: Wesley Huang
whuang@missioncontinues.org
(718) 427-6843
Impact Stories from the Field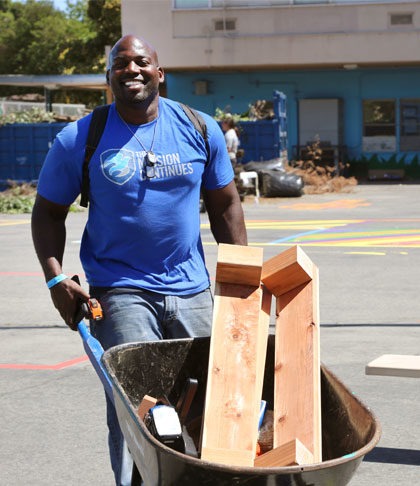 Support our Work in Communities Across the Country
Your donation goes a long way into ensuring that veterans are able to connect with others and make an impact in their home communities.