Event Overview
As the nation observes the upcoming anniversary of September 11, 2001, New York City-based post-9/11 veterans and supporters of The Mission Continues are deploying to Brownsville for an impactful service project. Located in Brooklyn, Brownsville is a community of almost 90,000 residents and has long been one of New York City's most dangerous neighborhoods. For decades, Brownsville has struggled with the highest rates of housing instability, unemployment, child welfare involvement, incarceration and chronic disease in Brooklyn. Since 2016, The Mission Continues Brooklyn Platoon has been focusing its efforts to revitalizing neighborhood parks so that our combined efforts in Brownsville can be a catalyst to improving the community and so that we can create a new narrative of prosperity and change that residents have been longing for. Veterans, community members, and supporters will spend this day of service working side-by-side to revitalize Van Dyke Playground to ensure that residents have a beautiful safe space to play and gather with neighbors, friends, and family. To prepare for the service project, we're going to tape boundaries for 8 handball courts and sort tools for the project happening on 9/12. We look forward to having you serve alongside us.
Operation Brownsville
Event Contact: Vu Nguyen
vnguyen@missioncontinues.org
(917) 414-2530
Impact Stories from the Field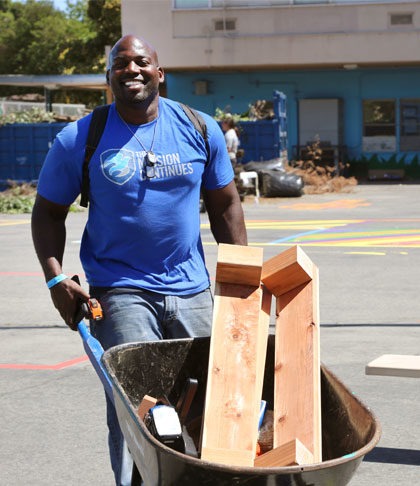 Support our Work in Communities Across the Country
Your donation goes a long way into ensuring that veterans are able to connect with others and make an impact in their home communities.